Time Line Set For Michael Scott's Departure From 'The Office'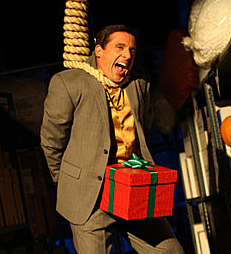 Well this takes the fun out of guessing. We now know when Michael Scott will be saying farewell to The Office. NBC announced the plan so you can go ahead and start mentally preparing to wipe away the tears while pretending your contact dried out.
Here's how it will all play out:
April 14: This is where we'll get our first episode with Will Ferrell. He'll continue on the show until May 5. April 21: We get an episode titled Goodbye Michael Part I, written and directed by Mindy Kaling. It's fairly obvious this will set things in motion for Michael's farewell. April 28: This is the big one. It's titled Goodbye Michael Part II, and is written by series developer Greg Daniels and directed by comedy master director Paul Feig. May 5 and May 12: The first will be the final episode for Will Ferrell and the second will be back to business as usual. May 19: We find out what happens to the open regional manager position at Dunder Mifflin in this hour-long season finale.
In addition to the time line, Kaling also gave three potential Michael Scott exits that they ultimately decided not to use. My favorite was Michael's death: leaning on the window in the conference room and falling to his death. It would a poetic death, but yeah, a little too harsh. Nevertheless, on to Michael's exit! As the great, philosophic group Semisonic said "Every new beginning comes from some other beginning's end." Let the countdown begin!
Source: TV Guide