How Tina Fey and Amy Poehler Could Make the 2014 Golden Globes Even Funnier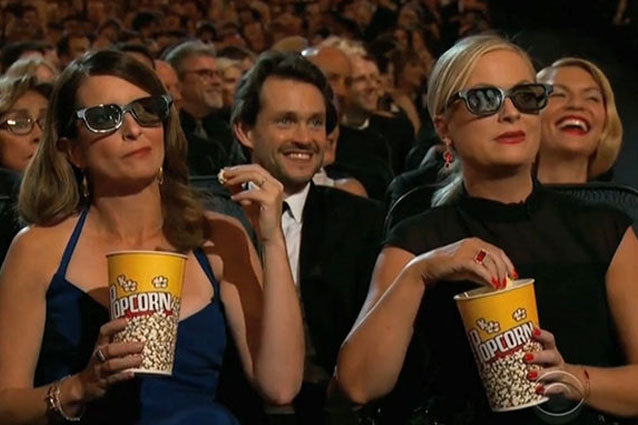 CBS
It is a truth universally acknowledged that Amy Poehler and Tina Fey are consistently the funniest part of any award show they attend. After all, the pair easily stole the opening segment of last night's Emmy Awards away from host Neil Patrick Harris, and fans have been impaitently waiting for their next hosting assignment since the credits rolled on the 2013 Golden Globes. They might not have to wait much longer, though: on last night's red carpet, Fey revealed that she and Poehler had been asked back to host this year's Golden Globes, and that they were planning to discuss whether or not to take the gig that night. In the hopes that they will accept NBC's offer, we've come up with five ways for Fey and Poehler to rock the Golden Globes… not that they'll need any help, of course. 
Everyone Gets Heckled
The duo became, hands-down, the funniest part of last night's awards the moment they shouted at Harris to take off his pants and "twerk it." Armed with 3D glasses (so they could see his "business" up close) and buckets of popcorn, Fey and Poehler proved that they are the funniest showbiz team since Statler and Waldorf, and the drunkest night in Hollywood is the perfect place to have them heckle and snark on all of the winners and presenters. Who knows, maybe Meryl Streep will get a bit tipsy and join in. 

Hold a Loser's Party Onstage
Amy Poehler has never won an Emmy — it's heartbreaking, but true. This year, she and Jon Hamm, her good friend and another perennial loser, decided to host an after party to celebrate all of those talented people who didn't recieve a statue last night. Held at the Soho House, losers got in for free, but winners had to check their Emmys at the door and make a $1,000 donation to World Wide Orphans. Poehler should continue the tradition at the Golden Globes and celebrate all of the losers from both television and film during the ceremony so that viewers can finally live the dream of partying with the funniest ladies in showbiz. Plus, we've got the perfect co-host: Leonardo DiCaprio. 
Interacting with the Stars
Whether they had Mandy Patinkin judge some singing or Glenn Close play drunk, some of the funniest moments in this past Globes ceremony occured when Fey and Poehler interacted with the crowd. It's always fun to see typically serious actors let loose and goof off, and nobody is better at encouraging silliness than these two. Sure, audience participation is a risky game, but they can always fall back on some of their reliably funny and game friends like Hamm and Julia Louis-Dreyfus. 
Costumes — Lots of Costumes
Fey and Poehler crashed the nominees for Best Actor and Best Actress in a Miniseries or Movie disguised as the stars of the fictional movie Dog President last year, and managed to steal all of the attention from the actual nominees without saying a word. The pair should bust out some more alter-egos this year, or at the very least, channel one of Poehler's famous Emmy skits and utilize some props. Both women are fantastic character actresses, and their time on Saturday Night Live has given each of them a vast repertoire of goofy and weird characters who would be perfect to liven up some of the ceremony's duller moments.
The Golden Globes Drinking Game
On the red carpet before last year's Globes, Fey and Poehler revealed that they had devised a drinking game for both the viewers at home and the stars in attendance to play. Rules included drinking every time someone cries during a speech, a wardrobe malfunction occurs, or if you've just had a difficult week. This year, they should take it to the next level and actually play the game onstage – our only request is that they honor the time-honored rule established by the cast of Bridesmaids and take a drink every time someone says "Scorsese." 
Bonus: Amy Poehler Finally Wins
Sure, it's not an Emmy, but seeing Poehler recognized as the funniest woman on television would be the perfect cherry on top of the Fey-Poheler hosting sundae. And if that doesn't work, she can always be nominated for her hosting work at next year's Emmys. 
More: 
The Most Surprising Wins of the 2013 Emmys
Tina Fey to Host 'SNL' Season Premiere
Watch Clips from the 'Parks and Rec' Season Premiere
---
From Our Partners:

A Complete History Of Twerking (1993-2013) (Vh1)


20 Grisliest TV Deaths of 2012-2013 (Vulture)