Tio Salamanca Speaks! Mark Margolis on His Emmy Nomination and the End of 'Breaking Bad'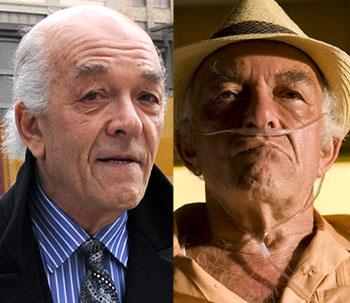 He may not have had many lines, but he sure made one explosive impression on fans. In light of his recent Emmy nomination for Guest Actor in a Drama Series, Hollywood.com talked with Mark Margolis about his pivotal role of Tio Salamanca on AMC's Breaking Bad. The actor opens up about preparing for the challenging part, his new movie with Darren Aronofsky, and how he thinks it'll all end for Walter White. 
(SPOILER ALERT: This interview contains information pertaining to the Season 4 finale.)
Hollywood.com: Congrats on the Emmy nomination! What was your first reaction when you heard the news?
Mark Margolis: That's what everyone asks me — I don't know what to say! My first reaction was that I could care less. Then I thought, maybe I can get five million dollars from the Koch brothers if I say I'm not taking a nomination from the liberal Hollywood establishment. Then I thought, that's not a good idea. But they haven't made an offer anyway. [laughs]
I was kind of surprised. They had put me up a couple years running for episodes and nothing ever came of it. Though, I wasn't absolutely surprised, because two years ago, nine out of 10 people didn't know what Breaking Bad was, and after the third or fourth season, it started getting an incredible following. I thought there was a shot also because my character is an unusual creature, where except for a few flashbacks, I don't really speak, and that's different. Everything's done through ringing a bell and the way I react facially. 
Speaking of that, how did you go about preparing for the physical side of your performance?
I've been around people from time to time who have had strokes and can't move; I see people even in my own neighborhood in wheelchairs. I had a period of time for about eight years when [my wife and I] went down to visit my mother-in-law in a nursing home in Florida. She had had a stroke and was on feeding tubes and couldn't talk. It was a horrible scene. But sometimes when we would come in, she used to get excited, because her brain was somewhat still working, and she could never talk, but there were these movements out of the left side of her mouth that I stole from her. I said to somebody, "It's sort of an homage to Shirley, my mother-in-law." I take things from what I see in the world. 
From the neck down my character doesn't move much, except for the finger that does the bell. So from that point of view, I just had to relax into a position that I could stay in for a while. And then that thing at the side of the mouth gave me something to do, rather than just sit there with a blank expression. And it's a wonderful thing, because especially when I got worked up, the left side lips would come out in a weird way, kind of moving almost in a simian quality. I owe it all to Shirley, who never cared for me anyhow. [laughs] 
It's the most unusual thing I've ever played, I think. I'm going to Iceland to work on a Darren Aronofsky film where I'm going to be playing something even more unusual. It's a film with Russell Crowe about Noah's ark, and I'm playing kind of a god made out of stone, which should exceed even Tio [in strangeness]. 
You've worked with Aronofsky extensively in the past. 
It's because he owes me. He lost a bet. [laughs] I started with him when he was unknown in Pi.  He likes me; I think I'm the only one that worked in all of his films. Though I don't exist in Black Swan. I worked in it but the scene is gone. 
I saw an interview you did a few years back with AMC and you talked about really enjoying making Aaron Paul sweat a bit in an interrogation scene in Season 3.
Yeah, all of those things I enjoy. To take a jump, the last episode with Giancarlo Esposito, I loved sucking him in. You know, he wanted me to be contrite about what I did to his lover or friend at the swimming pool and I kind of took on an expression of like, "I'm really sorry" — I'm practically in tears. Acting is doing, it gives you something to do. But it was wonderful, it's fun to do stuff like that. That's part of the wonderful thing about acting. The writer gives you license to do things you might not even do in your life in a million years. 
When did it become clear to you that you were going to play such a big role in the Season 4 finale?
Well, Vince [Gilligan] called me up about a month and a half before, very apologetic about the fact that I was going to die. Which I knew was coming. In fact, I had given him a suggestion about a month before, in case he wanted to kill me off. So I think I saw the script a week before we did it, they sent it to me. But Vince mitigates it by promising, "Don't worry, we bring you back! We bring you back in a dream." And he says they are going to bring me back for next season. It'll probably be in a dream sequence or a flashback, but I'm all for that. 
I was surprised at how they did it, the whole bomb thing was a real surprise to me. I thought perhaps I was going to be murdered by Giancarlo's character, which is what he was about to do until I did him. And also, with Bryan coming to me saying, "I know you hate me, but there's somebody you hate more," I loved it, all that. That was a wonderful episode. Actually, what I enjoyed most was messing with the minds of the DEA by spelling [the insult]. Sometimes the character is wonderful because I get to do wonderful things, even though I'm limited. 
But actually, what I'd really like is a scene with Anna Gunn. That's my fantasy. She is adorable and Walt doesn't treat her right. We could have a father/daughter relationship. Oddly, she grew up in Santa Fe, and we had a nice conversation [about it] a couple of years ago. I was part of a big theater company in Santa Fe and it turns out that's what turned her on to acting, seeing that production. 
As we near the end of Breaking Bad, what do you think or hope happens with Walt at the end?
I'm an actor, I'm not going to watch the show if I'm not in it… I'm kidding you! I really don't know, because we're dealing with an Einstein of television writing, Vince Gilligan. I mean, he could have Jesus come down and bring Walt to his senses. Vince is a very weird man. Did you see last week's episode where it opened in Germany? That was mind-blowing! I saw something on the Internet and I thought he was kidding, that they're going to be speaking German and not Spanish. I thought it was a joke. I have no idea what will happen. Walt may end up on a tropical island living the high life. It's impossible, because we're dealing with the oddest man. He's so un-Hollywood and yet his mind is brilliant. So, I have no idea. I don't have the vaguest idea. I'm sure it will be mind-blowing, whatever it is. 
[Photo Credit: WENN.com and AMC]