Today in Nostalgic Reunions: 'The West Wing,' Backstreet Boys Are Back, Alright!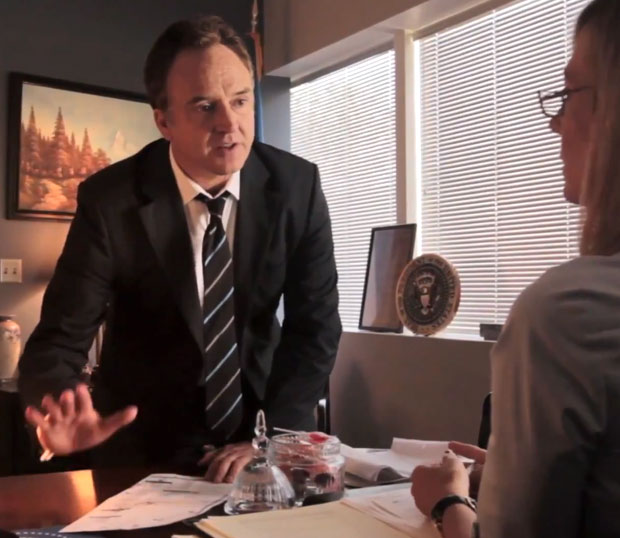 When we look back, 2012 will be known as 1999. Or, rather, the year that brought us back to the 1990s. Not only were we privy to a Spice Girl reunion at London's Olympics and a slew of Old Navy ads that reminded us of the days when Blossom and Beverly Hills, 90210 were appointment television, but 2012 also brought 98 Degrees back together and revived a more advanced version of Skynet's human hypnosis tool, Furby.
But the nostalgia obsession continues — today, we go the chance to enjoy two doses of the 1990s. First, Old Navy wasted a major opportunity when they brought Backstreet Boys back (alright)… only to feature them singing "Everybody (Backstreet's Back)" next to a runway. (Come on, guys: At least have them sing about how they want Performance Fleece that way. That's all we ask.) And, just four months after reuniting for a Funny or Die PSA (note to Netflix: I think they want back in), The West Wing cast has come together for real do-gooder purposes to encourage citizens to vote… especially for Michigan Supreme Court candidate Bridget Mary McCormack. The faces (which include Martin Sheen, Bradley Whitford, Richard Schiff, Janel Moloney, and more… but no Rob Lowe) won't be the only things in the ad that looks familiar — McCormack's name might as well. That's because she is, yes, West Wing alum Mary McCormack's sister, which might explain how the candidate managed to wrangle the entire cast together for a short spot.
Below, see the Backstreet Boys commercial and The West Wing ad, which, in true Aaron Sorkin fashion, transforms Allison Janney's C.J. into a clueless woman needing explanation from her more informed, more penis-y co-workers.
More:
West Wing Cast's PSA About the Health Benefits of 'Walk & Talks' — VIDEO
Obama on Romney Controversy: Presidents Have 'to Work for Everybody' — VIDEO