'Today' Skips 9/11 Moment of Silence for Kris Jenner Interview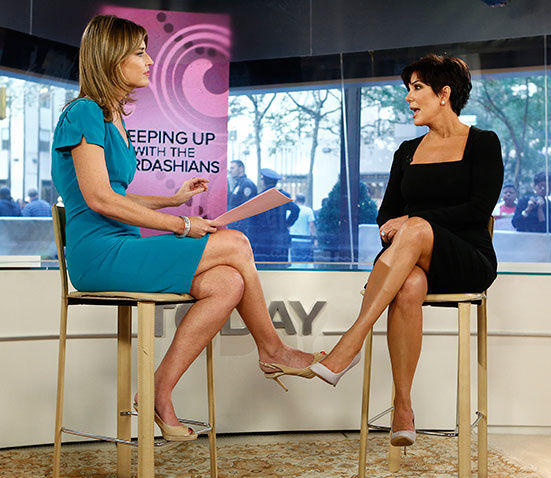 At 8:46 this morning, New York City and Washington, D.C. paused to observe a moment of silence in recognition of the tragedy that took place on this day 11 years ago. President Obama and the First Lady led a moment of reflection at the White House, while the NYPD, FDNY, New York Port Authority Police and members of the victims' families gathered at the 9/11 Memorial in New York to remember the moment the first airplane hit the World Trade Center.
News outlets including ABC, CBS, Fox, MSNBC, and CNN switched to footage of the observance when the somber moment began. Not NBC, however. While WNBC showed the moment of silence to its New York viewers, in every other location the Today show kept right on trucking, choosing to air an interview with Keeping Up With the Kardashians' Kris Jenner instead. To add insult to injury for some viewers, the topic of the day was Jenner's breast augmentation.
Twitter users expressed their dissatisfaction by saying NBC should be "ashamed and ridiculed" for their choice in programming. "#NeverForget," one user tweeted.
Wow, just Wow. NBC should be ashamed beyond belief and ridiculed by ALL! mediabistro.com/tvnewser/nbcs-…
— Tony Bruno (@TonyBrunoShow) September 11, 2012
End of world: @romenesko: NBC chats with Kardashian mom during 9/11 moment of silence. bit.ly/U6tYMX | politi.co/RIr92A
— Sandra Winters (@sandynightsky) September 11, 2012
I wonder if NBC is just planning to air the 9/11 moment of silence on tape delay for prime time tonight.
— matt haze (@MattHaze) September 11, 2012
Shame shame shame on #NBC for not airing the moment of silence this morning. #NeverForget
— Rachel Lee (@RMLEE88) September 11, 2012New York Magazine created a video that shows side-by-side footage of the major networks' coverage this morning. Seeing the contrast between Jenner's reality show gossip and seas of solemn faces is sobering.
However, NBC's decision raises an interesting question: When is the appropriate time to stop televising the moment of silence? Our country no longer publicly pauses to remember the bombings at Pearl Harbor or the assassination of JFK. Much like 9/11, the pain these events caused have shaped our country's history and will never be forgotten; but news stations do not pause their regularly-scheduled programming every December 7 and November 22. There is obviously no correct answer, but judging by Twitter's reaction it seems as though 11 years is not long enough.
Follow Abbey Stone on Twitter @abbeystone
[Photo Credit: NBC]
More:
Jay Leno's Sticking Around: NBC Confirms Pay Cut, Contract Extension Through 2014
NBC Can't Catch a Break: Jay Leno's Jokes, #NBCFail and 5 Other Criticisms
Kris Jenner Talks Kim Birth Control, Kanye, More on 'Bethenny'
From Our Partners:

Blake Lively Talks Life with Ryan Reynolds in 'Allure': "I've Never Been Happier" — PHOTOS
(Celebuzz)

(Celebuzz)