Tom Cruise Recites Insane Dialogue in a 'Dramatic Movie Star Way' for Jimmy Kimmel — VIDEO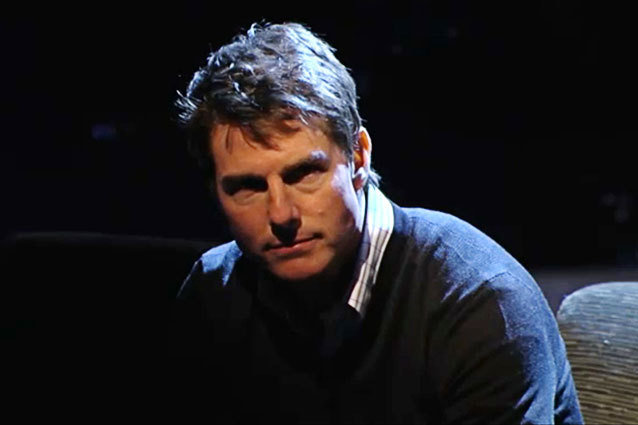 Tom Cruise is about the closest thing we have to a movie star who's also a real-life international man of mystery. For all the tabloid coverage about him, we really don't know that much about the guy. Wild conspiracy theories and nasty rumors ensue, sure. But every now and then, Cruise does something so disarmingly funny or endearing that you realize he is a human being after all.
A perfect example? Cruise's appearance on Jimmy Kimmel Live! last night to promote his new apocalyptic action flick Oblivion. Sure, he starts out coming across like a movie god descended from Mt. Olympus (or its Hollywood equivalent) to mingle with us mere mortals: he's been to every continent on earth to promote Oblivion; he's descended from Irish warriors who fought with Strongbow in the 12th century and even a "Famine Hero"; he rappels into volcanoes for relaxation, as if he were Mr. Spock; the sun shines the whole day in Iceland just because he's there.
But then Kimmel dims the lights and allows Cruise to show his inner goofball by giving some weird, banal dialogue a recitation in a "movie star dramatic way." Note the slight twist of his head when delivering the immortal line, "Is there a way to get the soup and the salad?" The careful pause in "What's your return policy on this panini maker?" We even get to hear the most of his faux Irish accent on the line "Gentlemen, grab your nunchucks, it's gopher clubbin' time!" than we've heard since Far and Away. 
Check out the full clip from Jimmy Kimmel Live! below:
More:
Tom Cruise and Morgan Freeman Battle in 'Oblivion' Trailer
Tom Cruise Joins 'Man from U.N.C.L.E.' Which Sounds a Lot like 'Mission: Impossible'
Late Night Last Night: LL Cool J Clarifies 'Accidental Racist'
Follow Christian Blauvelt on Twitter @Ctblauvelt
---
From Our Partners


Jessica Alba Bikinis in St. Barts (Celebuzz)


Which Game of Thrones Actor Looks Least Like His On-Screen Character? (Vulture)