The 'Tonight Show' Controversies: The Warring Antics of Leno, Fallon, Letterman, and Conan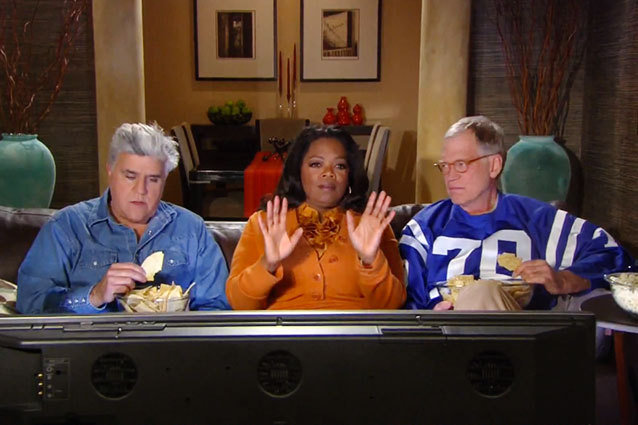 You can ignore it all you want — I'm talking to you, in the stuffed-shirt, sitting up on your ivory throne — but there's a war going on, and it's taking its toll on all of us. This is a war that has been waging for years now, pitting brother against brother, man against regime, eyeball against peacock. We're talking, of course, about the dreadful Late Night War, which has kicked up the heat lately thanks to NBC's brimming desire to oust Jay Leno from his Tonight Show hosting gig.
But this is a special kind of war — not fought with violence or rage, but with passive-aggression and comedic shtick. In fact, it's a war that often calls its foes together to lambast the very idea of the animosity itself. As far as wars go, it ranks among the funniest (although the Anglo-Zanzibar conflict of 1896 was, admittedly, a laugh riot).
RELATED: Jimmy Fallon and Jay Leno Team Up to Address Late Night Rumors
Just Monday night, Leno and his would-be (could-be?) replacement Jimmy Fallon joined forces to mock their home network NBC in a satirical song about Leno losing his job and Fallon usurping it:
While Fallon seems to be keeping an amicable air about him through this whole mess, Leno hasn't exactly earned the favor of all of his late night colleagues. Most famous is the longstanding rivalry between Leno and The Late Show host David Letterman. While the competing fellows share an enmity that has lined their material for decades now, that didn't stop them from owning up to the joke and appearing alongside one another (with a buffer zone of Oprah) in a 2010 Super Bowl Commercial:
Leno, for all his flaws, seems willing to take a jab at himself. Chronicling the overarching story of late night animosity, Leno appeared in a self-effacing, ennui-laden scene in a Season 3 episode of Louie, coming across both as a villainous figure and a victim alike in the dynamic ordeal.
RELATED: Where Will Leno Fans Go If He Leaves NBC?
Of course, Fallon, Letterman, and the NBC network itself all fall behind Conan O'Brien as Leno's most noteworthy adversary. Long an ally of the big-chinned host, O'Brien took over his Tonight Show spot in 2009, and was then promptly ousted when Leno wanted his old job back.
O'Brien manufactured many a shtick to express his distaste with the network's compliance with Leno during and past his tenure on The Tonight Show, including having longtime friend Jack McBrayer lead a faux-tour through the Tonight set, unwilling to waver on the time of his tour, as a jab at NBC's suggestion to push The Tonight Show back to midnight to grant Leno a show in the 11 PM hour. Naturally, none of O'Brien's Tonight Show antics are available online, as NBC has done its best to rid the Internet of any trace of that pockmark on its program's history.
And so, the battles wage on. Leno will continue to mock the network, Letterman will continue to mock Leno, Conan will continue to mock his own misfortunes, and Fallon will just try and be best friends with everybody. You know what they say, people: War is hell.
Follow Michael Arbeiter on Twitter @MichaelArbeiter
[Photo Credit: CBS]
---
You Might Also Like:


Topanga's Revealing Lingerie Shoot: Hello '90s!


13 Most WTF Fan Tributes