It's Official! NBC to Replace Jay Leno With Jimmy Fallon in Spring 2014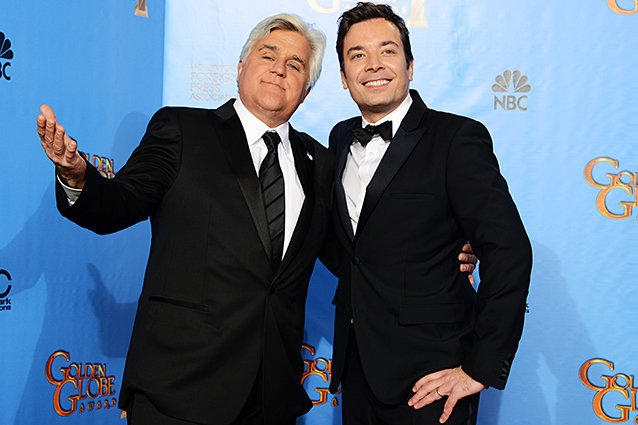 The wait is over! The biggest non-secret in Hollywood has finally been confirmed. NBC announced this morning that Jimmy Fallon will replace Jay Leno as host of The Tonight Show in 2014. 
Just as NBC did when ousting Conan O'Brien from the venerable series in 2010, the Peacock will be using the Winter Olympics as the perfect time to pass the torch. Except this time it's Leno who's getting the boot, even though under his leadership The Tonight Show has continued to remain the No. 1 rated show in late night.
Steve Burke, CEO of NBC Universal, said in a statement Wednesday, "We are purposefully making this change when Jay is #1, just as Jay replaced Johnny Carson when he was #1. Jimmy Fallon is a unique talent and this is his time."
Jay Leno and Jimmy Fallon Sing About Who Will Host 'The Tonight Show'
The transition does seem to have been expedited. It had been expected that Leno would hand over the franchise to Fallon in fall 2014, not spring. The Tonight Show will also be moving back to NBC's 30 Rock studio in New York and will be executive produced by SNL demigod Lorne Michaels.
Leno appears to be taking the move graciously, though this time his comment reveals that there's absolutely no chance of him being involved on NBC in another capacity. No Jay Leno Show. He said, "Congratulations Jimmy.  I hope you're as lucky as me and hold on to the job until you're the old guy. If you need me, I'll be at the garage." Fallon was a little more snarky, saying, "I'm really excited to host a show that starts today instead of tomorrow."
Why So Many 'Tonight Show' Controversies?
And so, after 22 years, the Jay Leno Era will officially come to a close. Excited? Sad? Think it's too little too late?
Follow Christian Blauvelt on Twitter @Ctblauvelt
[Photo Credit: Jordan Strauss/Invision/AP Photo]
---
From Our Partners


See 'Game of Thrones' as 'Mad Men' (Vulture)


Hayden Panetierre Bikinis in Miami (Celebuzz)