Top 5 Mindy / Danny Moments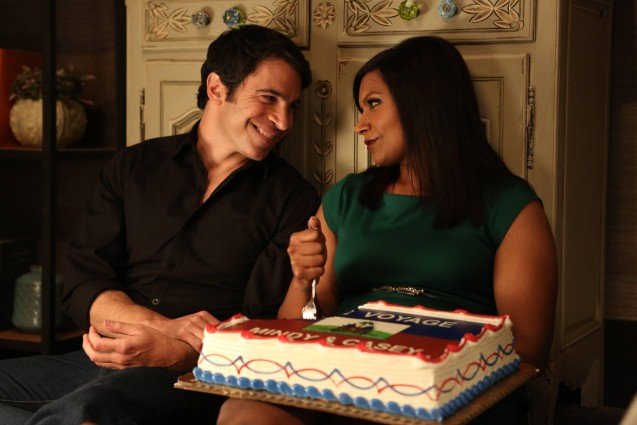 Beth Dubber/FOX
Cue screaming:
Mindy and Danny finally kissed, and to celebrate I've compiled a list of The Mindy Project's most adorable, shippiest scenes.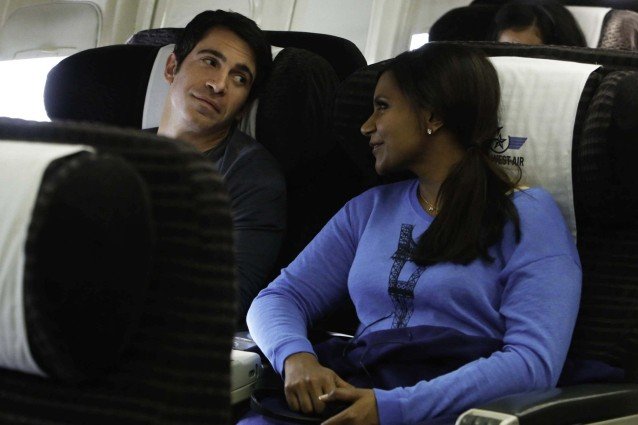 Jordin Althaus/FOX
5. Mindy spends the night at Danny's
Um, can you say adorable? Pretty much all of "You've Got Sext" was full to the brim with squee-inducing Mindy / Danny goodness. The way he's freaking out about the fact that she might have a crush on him?   The way she sets up camp in his bed and giggles at mating frogs on the Nature Channel?   The way he tells her over pancakes that her workplace crush is not out of her league because she's "great"? I LOVE IT.
4. Danny Castellano is the best personal trainer
In "Danny Castellano Is My Personal Trainer," how sweet is it that, as Mindy's listing all the ways she could improve her body (getting rid of cellulite, having a boob job, and magically gaining blue eyes are all at the top of her list), Danny shuts down her low self-esteem with a simple "I don't want that." He then goes on to tell her, "You're a woman and that's good; look like a woman." How far they've come since the pilot.
Also, that shot of Mindy staring Danny's junk right down the barrel and subsequently screaming in terror was hilarious.
3. The pre-Haiti near-kiss
In "Take Me With You," Mindy and Danny share a heart to heart in the lounge – he's comforting her in his slightly abrasive Danny way (by teasing her about her pixie cut), when he stops to take some "schmutz" off of her glasses. The result? Their faces are too close! They hold eye contact for too long! Alert, alert! Alas, Mindy has to go and ruin the lovely moment by announcing that she's back together with Casey.
2. Danny's dance (AKA kiss close call take 2)
Um, he choreographed a dance. To a song he hates. If that doesn't spell "true love," I don't know what does. His dance to Aaliyah's "Try Again" was pure gold, and the overlong hug and meaningful stare that followed? Even better. Darn you, Peter Prentice, for interrupting that.
1. The first kiss
Okay, okay, be cool guys, it finally happened. Their airplane kiss was just what the doctor ordered for this slow burn, and that little When Harry Met Sally button on the episode? Perfect, as was the little title card reading, "Happily Ever After?" We know it won't be smooth sailing for these two, but who cares? They kissed!
And now we have to wait until April to see what happens next. Grr.
So what are your favorite Mindy / Danny moments? Share them in the comments!