'Top Chef D.C.' Recap: Asian Invasion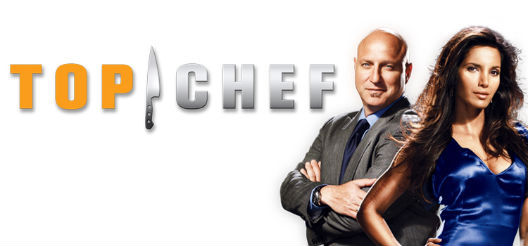 S7:E13: Top Chef went all international on our asses last night when they dragged us to Singapore, cheftestants in tow. We found our beloved Ed, Angelo, Kelly and Kevin sweaty and panting in the Singaporian heat, bushy-tailed for the Asian-themed adventure ahead of them. We watch them traipse through the small food-stalls of Singapore with the King of Street Food, Seetoh. Seetoh is hilarious and entertaining, by far the best addition to the Top Chef cast yet.
The gang was all here: K. Sbrags arrived in style wearing a hilarious safari hat to roam the streets of the Orient, while Kelly dressed in her smartest outfit – a snappy little number involving madras pedal pushers. Angelo pulled more Hermiones than ever before – the man was practically bursting with pride and pomposity as he sailed ahead of the group: "Ah yes, this meat here has classic ASIAN flavors. I know all about these. Hm, yes, this is something I am very familiar with! Ah! Yes, this is Asian spice – this is a particular favorite of mine!"
Meanwhile, Ed has become inexplicably more of a douche in the break between the regular season and the finale; evidently he spent his off-time sharpening his sparkling wit.
Angelo: "Do you like black cockles?"
Ed: "Not as much as you do."
Quick Fire
After a tour of some standard street foods and many sweaty shots of the cheftestants consuming spicy food, Seetoh led the four right into the clutches of Padma's iron grip. The chefs catch one glimpse of Padma and begin screaming and crying. "NOO! Seetoh you have betrayed us!!"
But it was no use. Padma growled out a few commands: make a street-food style dish using a wok and local ingredients all labeled in confusing local languages that no one could read. She also dropped a pretty big bomb on our friends: the winner of this Quick-Fire will have immunity, a Top Chef first, (Immunity this late in the game?) meaning a one-way ticket to Finale-land.
Ed had a real chip on the ole shoulder about Angelo's experience using soy sauce and rice vinegar etc. and maintained the determined but sad look of a Miss Universe runner-up, all frowning and teary-eyed but strong-willed. So they are all cooking away, frantically tasting every single thing on the shelf because they can't read Cantonese.
The time for tasting comes, and turns out Ed's chagrin was all for naught as he proved himself adept at using a wok (stir-fry noodles) and just as good as Angelo (chili frog legs) at Asian food. Kelly did alright (more noodles), but when Kevin (seafood stew) admitted to Padma that he had never used a wok before, her eyes flashed and she grew ten times her size howling terrible curses and screams. She bashed poor Kevin over the head with biting sarcasm again and again ("Did someone tell you we were coming to Asia? Oh wait yes they did, didn't they? I think that was me. Yes, I think it was) until he resembled nothing more than a mewling little boy tugging his mothers apron. Sad.
Elimination Challenge
The Elimination Challenge was announced to be a team affair, sticking the unfortunate three loser chefs with a very smug Ed to cook with for a party thrown by Food and Wine magazine. Tensions were pretty high as they attempted to plan a menu true to the episode's exotic locale while still under the umbrella of what they were capable of. Angelo, wallowing in a lake of depression at the loss of his Asian Flavors Champion title, decides to make a lamb tartar, Kelly wants to make a prawn dish, Kevin chooses a clam-chowder. Ed is the only smart and rational man in the competition, apparently, as the only one who opted to make a pork belly dish. However, Ed proved to be extremely irritating the entire way around, provoking Angelo into a near mental break and championing their decision to make one dish each until Tom reminded them that would not work at all. Ed pipes up with a "Oh I had planned to do two dishes Tom, you can count on me not like these other stoners here!" The other chefs were all "OMFG you bitch!" but made various supplementary dishes in addition: two soups from Angelo and Kelly (broth and cucumber yogurt respectively), an egg and tapioca dish from Kevin, which the judges LOVED, and a banana fritter from Ed, which Tom literally wanted to make out with.
Judges' Table
This judges table was pretty predictable. Ed the white guy formerly known as boring won the whole thing for his un-BEE-LEEEEE-VA-ble fritters and a delicious pork dish (duh pork). The loser was chosen by the judges by splitting hairs on things like seasoning and texture, in what looked like the closest judging ever. But still, we all knew Kelly had to go! Her food just didn't have the PIZZAZ. Sad to see the only female leave.
But none of that matters, because the best moment of the season happened shortly after Kelly left the room for good, and the camera zooms in on Angelo weeping openly and hilariously.