'Top Chef: D.C.' Season Premiere Recap!
  Top Chef: D.C. Season Premiere Recap!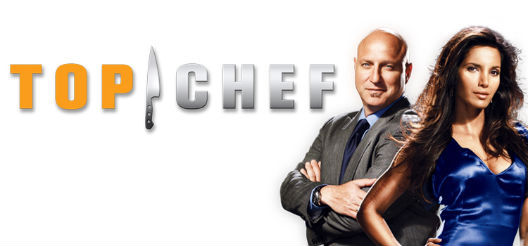 S7:E1: Thank god the original Top Chef is back — after a few plodding months of the hippie-communist love-fest that was Top Chef Masters, the return to some fine American capitalist competition is going to be invigorating. Invigorating like the sight of Tom's bald head shining like the dome of the Capitol building in our nation's monument-filled capital city, Washington D.C. That's right, this season Bravo has brought the show to D.C. (presumably to thematically explore some deeper political issues? Pastry tableaux of oil-spill imagery? Cuisine from war-torn and exploited foreign regions?? Gay Wedding Wars??!) and everyone could not be happier. Last season Bravo wove much campy Vegas cliché into the challenges, so I would expect to see copious portions of Obama-mania as well as some 'fifty-states' type challenges or 'melting-pot' sort of themes.
Top Chef has followed the same arc as other reality shows of this kind (such as Project Runway), and what started as a show in which line-cooks and stay-at-home moms had a fair crack at the top prize has turned into a prestigious publicity machine, attracting elite young chefs hoping to drum up press for their hotshot careers and West-Village restaurants. These 'chef-testants' come with a measure of professionalism and drive that kills the drama quotient (see the Voltaggios and Jenn last season – any self-respecting reality show would have turned that steam-cooker into a three-way). Of course, Top Chef Masters is the epitome of this rule, where the pros had little to no competitive spirit and instead cried at each others' eliminations, cooked each others' food, and even redistributed their spending money based on need! I hope this new season of more accomplished chefs doesn't try to pull any of that commie crap in our nation's capital.

The first episode of the season is always disorienting, so to ease us into it Bravo kindly structured both premiere challenges so that the large group was divided into manageable, bite-size chunks. We got to know some of the key guys after a few minutes of an awkward meet-and-greet cocktail party, including the obnoxious but kind-of-cute Angelo (does he have a weak French accent or is it a Madonna I-spent-time-in-France accent?), the short n' fat guy (from Jersey in this case), a few bland white women (Jenns, Traceys, Laurens?), a woman with an impressive back-story (IHOP to Ocean Club) and the requisite stereotyped multiculturals. Bravo usually casts either a serious Asian and a goofy black guy or a serious black guy and a goofy Asian. This season it's the latter with Kenny and Arnold.
Tom started the competition off right away with a Mise En Place. YES! I was pumped. Mice en place is one of the best quick fires because you get to see who the real rock-star chefs are, and you also get to watch the weak guys crack under pressure. That pressure, plus the knife acrobatics and flying chicken meat make for an exciting challenge. To add to the anxiety of this first quick fire, it was revealed that this challenge would be 'high-stakes' – meaning the winner would get 20 grand. This is some carryover from last season's campy Vegas theme but I appreciated the extra stress it added to the contestants – it was obvious that the ability to keep cool under the weight of all that money was the most important factor here.
Coolio Kenny the serious guy won every leg of the challenge, peeling potatoes, dicing onions, and breaking down chickens faster than them all! Angelo did not like this! He was fast on his heels, along with Timmy Dean (shorter black guy with glasses) and Kevin Sbraga (from Jersey). The wastefulness of this challenge was a bit awkward, chopping up food into neat piles only to throw it away, but no sooner did the thought pop up than the top four fastest knife-wielders were instructed to make a dish with the pieces of stuff.

Angelo made wings with onion jam which Padme liked, while Sbraga made an herby-chicken with broth which was salty – but Tom is clearly watching his sodium-bloat and did not like that. Timmy Dean whipped up a creamy chicken dish with cherries, which was also apparently no good. And Kenny made a nice spicy Moroccan chicken doublet duo doppio plate (okay, chicken two ways) that Tom deemed a 'nice job.' However it was Padme's favorite, Angelo, who took away the $20,000 with his onion jammy chicken. He was like 'meh' and then privately declared in his interview that he would to be the first Top Chef contestant to win all the challenges. Oh Angelo.
It was then announced that the elimination challenge would be organized into groups, with each group of four chefs competing against each other only in heats. The top four were then rewarded with the opportunity to pick the group they would be competing against. Some strategic hijinks ensued, and we were left with four groups. Easy. The challenge was to create a dish that represents their geographic origins, which is very exciting for the contestants but not particularly for us, since this challenge pops up every year. We expect to see fish from the Northwest and fried stuff from the South.
Bravo then showcased the charming mansion the contestants were to stay in this season, and we were introduced to John Somerville, a very alarming and vaguely equine gentleman with shudder-inducing gray dreadlocks bobbing cheerfully behind his head. He sweetly confides that he wants to give the judges a piece of himself. Anthony the wacky Asian complains of potential snoring! Calm descends upon the house.
Finally, the challenge begins and we are introduced to the key players for this round; Bravo always spoils the winners and losers by giving them more screen time, an obnoxious but necessary narrative tool. So we see blonde New-Yorker Jacqueline planning to make chicken mousse. This sounds gross to me, but no doubt there is something conceptual about whipped chicken molded into cakes that I am just not getting. Our white pastafarian friend John buys pastry dough. He explains that maple runs through the trees in his home-state Michigan. This is both confusing and worrying: to the seasoned Top Chef viewer, dessert plus store-bought dough equals prompt elimination.
The cooking begins, and Timmy Dean's group sets off first: Timmy himself is from the D.C. area and is making some Chesapeake rockfish. Alex is Russian and is making a 'deconstructed' borscht soup. K. Sbraga's group includes Amanda from California, who is pissed that she was chosen for this group and dramatically vows to make Kevin regret his decision! If it's the last thing she does! Eyes roll.  K. Sbrags is making lamb bubbled in a water bath chamber. Jacqueline is also with Kevin, and she decides to leave the fat out of her chicken cake. This will clearly be an important decision for her during judging!

AHA! Angelo's group is introduced, and it appears that he is in fact not French as his sneaky French name suggests, but from Connecticut. He is making Arctic char slices with bits on top and bacon foam (I miss Marcel). They then show him working with large amounts of bacon, which seemed like such a waste to reduce all that delicious cured meat product into some foam. Granted I have no idea how one makes a foam. Maybe one piece of bacon makes many pounds of foam. Perhaps foams are actually the most efficient way to feed large numbers of people.  
Moving on to Kenny's group: the larger white girl Tracey shows some sass, insulting team members left and right. I'm glad she didn't go the nice-fat girl route. I hope she sticks around. Kenny describes his dish from Colorado and it sounds delicious. Cinnamon-Coffee rubbed trout with goat-cheese polenta. Mostly because I love polenta.
Some chef-testants have a bit of trouble, including dreadlocks-John who burns his nut crunch thing for the foreboding maple dessert, and Jacqueline who runs out of time and decides not to strain the meat smoothie before molding it. This seems like a mistake to me, but chunky meat cake cannot be much worse than smooth, right?
The time for judging arrives, and we see the chefs setting up for a cherry-blossom festival party. Padme and Gail sailed in wearing matching cleavage, wrapped in pretty spring-type dresses. Chef Eric Ripert is joining the judges this year for a much-needed break from the acrid Toby Young from the Vegas season. Ripert is so charming and French, just as Angelo wants to be when he grows up.
The judging gets underway, and we are able to see some of the other dishes from the group. Amanda tries to impress the judges with her pseudo-intellectual description of her fish slice as "neo-classical Wolfgang Puck-era California". Tom snickered and rolled his eyes. Sbraga impresses with his lamb, and obviously the chicken cakes bombed. One guy apparently named Stephen made rib eye steak into little fried nuggets, which pissed off the judges. Plump Tracey's food was bland but Coolio Kenny's cinnamon fish went over great – he's so cool and poised! Unfortunately Timmy Dean's rockfish was weirdly big and still had the skin on it – this is wrong!  Angelo's bacon froth was a good move, the judges liked it. But they hated John's maple dessert.
Angelo ended up taking the top prize for his bacon foam and fish plate over Kenny and Alex the Russian. As predicted, John was nailed for his store-bought puff pastry and Jacqueline's chicken mousse was gross. In the end, John was sent home for his amateurish attempt at dessert. It was unfortunate that one of the kookier chefs was sent home so early, though we are still left with cross-dressing (what?) Anthony for some flavor.

This season will definitely have some strong personalities, so that at least is a relief. But I am not convinced of the entertainment factor of this crop of chefs – I haven't yet spied a very likable, relatable contestant, perhaps because there are few young, easy-going and down-to-earth cooks this year. Though this premiere was impressive cuisine-wise, I'm hoping we see a little more humanity out of these guys if we are going to make it for the long haul.