Touchdown! Five Super Bowl Commercials Featuring Celebs Before They Were Famous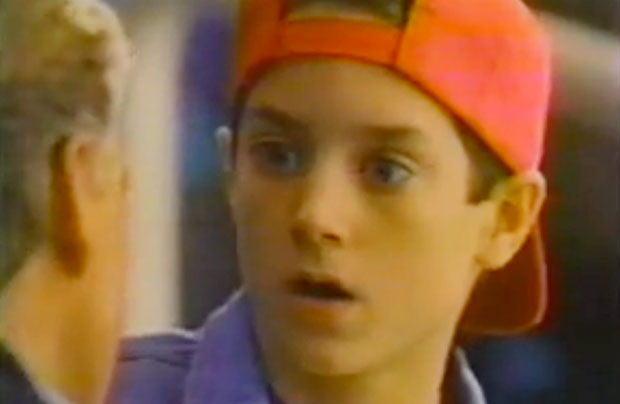 It's hardly a surprise to see familiar faces during the Super Bowl's commercial breaks. After all, we already know Amy Poehler is shilling for Best Buy this year; we all remember Matthew Broderick reviving Ferris Bueller for Honda last year; and we'll never forget the glory and slightly confusing patriotism of Britney Spears' "Joy of Pepsi" spot. But what about the people who shot to fame after they showed up during a brief respite from the moving of the chains? Those are the commercials you may not remember…
Elijah Wood Trades Chips For a Super Bowl Ring (1994)
Even before he wormed his adorable way into our hearts in the 1994 Kevin Costner movie The War, Wood was tricking sports fans into eating Wavy Lays so he could steal their seats. The celebs in this round were actually Dallas Cowboys star Troy Aikman and former Vice President Dan Quayle, but Wood was just months from becoming a star in his own right.
Farrah Fawcett "Creams" Joe Namath… Somehow This Wasn't Censored
Before Fawcett was one of Charlie's Angels, she was helping Joe Namath shave his face and making use of a pun I didn't think you could get away with in the '70s. You learn something new every day, I suppose.
Sean Hayes: Super Bowl Commercial Overachiever
Before he was known as Jack on Will & Grace, Hayes starred in two 1998 Super Bowl commercials, both of which would have you believe Hayes was a grunting neanderthal of a man: Bud Light's shopping escape and Ali Landry's Doritos 3D laundro-mat circus.
Before There Was The Fonz, There Was This Guy With a Killer Mustache
In 1973, before the 1974 debut of Happy Days — and, more importantly, the debut of Henry Winkler's The Fonz — this brief commercial featured a mustachioed Winkler extolling the virtues of Schick razors. (Unfortunately, the version with audio isn't available, but the facial hair! Oh, the facial hair.)
Follow Kelsea on Twitter @KelseaStahler
[Photo Credit: YouTube]
More:
Kathryn Bigelow: Oscars' 'Best Directors' Didn't Need to Be a Boy's Club
Oscars 2013: How To Watch All The Nominated Films
'Argo' Nabs Best Picture Globe, Could Oscaar Be Next?