The Biggest Problem with Amazon's 'Transparent': Its Nude Scenes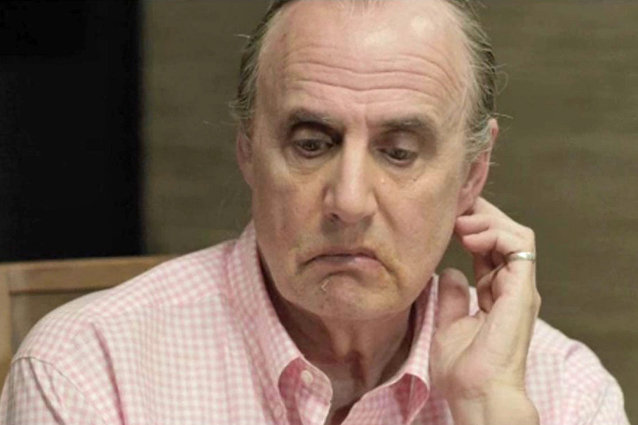 Amazon
Amazon recently premiered a batch of new pilot episodes and Transparent was one of their most talked-about shows — with good reason. Creator Jill Soloway (Afternoon Delight, Six Feet Under, and United States of Tara) very possibly has another hit on her hands, and we can't wait to see more. The first episode was excellent, as we got to meet a very unique family with a very unique set of issues… that were also, simultaneously, oddly familiar. And now, we get a little spoilery here.
First of all, the cast is perfect. A hilariously dysfunctional trio of siblings is played by Gaby Hoffmann, Jay Duplass, and Amy Landecker. Jeffrey Tambor plays Mort, the well-to-do father of the three adult children. He has yet to tell them that (spoiler alert) he is transitioning into a transgender lifestyle. So the show is full of good stuff, and there were very interesting sexual and sensual moments involving each of the children who have their own issues.
However, what stood out like a sore thumb was the fact there seemed to be a heightened focus on the female form over the male. That is to say, we saw every woman on the show nude or partially nude at some point, while the men's bodies were presented with this odd sense of modesty. Now, none of this female nudity was gratuitous — it was all very well done and very natural (i.e., one character bends over the sink while brushing her teeth, and when her shirt lifts up, we see that she is sans panties and, thus, get a little booty shot, which seems appropriate). But it was interesting that the men were not shown in the same light, despite plenty of opportunities. For example, the husband in that same scene was also in the bathroom alongside his wife — no booty shot ensued.
Duplass' character (Josh) shows a little backside at some point, but this moment was insanely tame compared to what we saw of the women (Ali went full-frontal nude, for example). In fact, Duplass' character really help to highlight this issue since he has sex scenes with multiple women and we saw so much skin from all of them, and so little from him!
It's difficult to say what all this means exactly. But in a show clearly attempting to take an atypical approach to sexuality and the discourse surrounding it, we expect more! Transparent does a great job of deconstructing the notion of female nudity as automatically sexy or as an implication of arousal. That is to say, many of the times when the women on the pilot episode were naked, it wasn't especially sexy. Some might call it the Lena Dunham/Girls approach, where the purpose of a nude scene or shot is not to arouse the male viewer. This in and of itself is still an exciting concept (at least, for us Americans it is). But when it only plays out with the female characters on a show, it still continues to emphasize female nudity over everything else. In this way it feels like it's defeating its own purpose, if the idea is to take a unique approach to typical narratives of sexuality for men and women. As of right now, Transparent — which, again, has the potential for greatness — is still feeding into the mass appeal of a naked woman, even if the presentation of that naked woman is different. The only way to balance this out would be to try to show more non-gratuitous, natural scenes or shots featuring the naked man. Director Steve McQueen did a great job of this in Shame with Michael Fassbender — the public backlash was actually more gratuitous than the scenes in the movie, which points to the fact that we as a cultural need male nudity to become more normalized so we don't lose our minds every time an actor drops trou on screen.
It must be said that even this critique is really a form of praise for the must-watch pilot. Here's hoping the series does get picked up for a full season, so we can learn more about these truly fascinating characters. And, yes, so we can also see some of the guys nude. 
Follow @Hollywood_com Follow @shannonmhouston