'True Detective' Recap: The Long Bright Dark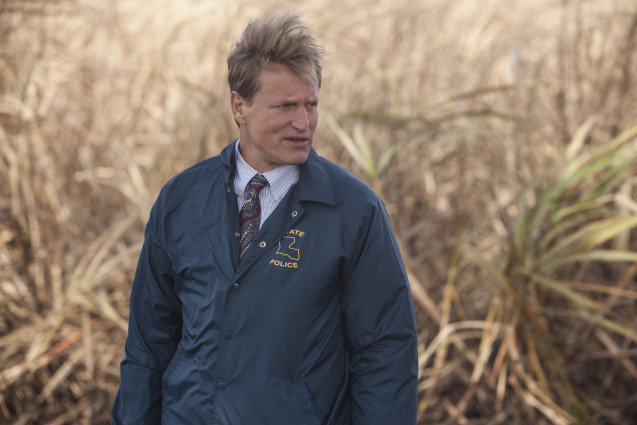 Jim Bridges/HBO
HBO's new crime drama True Detective isn't anything that you'd expect. Following the theme of The Killing,  HBO's True Detective will highlight one story per season. Season One premiere was disturbed and dark. The premise came to light slowly: not only are we watching a show about a murder, we are watching and learning about two broken men work, not necessarily together to solve a case, while we wait and see if they solve anything about each other.
Martin Hart (Woody Harrelson) and Rust Cohle (Matthew McConaughey) are two Louisiana detectives in a new partnership. We see the men in present day (2012) as they are interviewed about a 1995 case they closed: more on that later.
We believe Hart is the family man. He claims "Past a certain age, a man without a family can be a bad thing." But as the show goes on we can't help but wonder why he gives a girl a private deposition, why his wife wakes him up on the couch and he runs off to work, afraid to touch her? What lies behind the man who is so good, the man who is telling his story behind the desk of a promotion, what is hidden behind his eyes? If we had to guess, we'd say it's not something pretty.
Cohle on the other hand is obvious in his tormented darkness. His words bring Hart down, so much so that Hart shuts him up every time he tries to talk. "It's all just one ghetto man, a giant gutter in outer space," Cohle says. It is no wonder why Hart tells him not to talk that way in front of his kids, but it's also really obvious he isn't capable of this deep thought, which is why he so quickly shuts Cohle down. Cohle is intriguing in the way only a man who has suffered the loss of a daughter and a broken marriage can be. Behind those eyes there is something broken.
Cohle's nickname is the Taxman, given to him because of the large notebook he carries with him to crime scenes for detailed note taking. But his reputation as genius detective precedes him. Hart can see it and he tells the present day detectives about it. But it's obvious they already know this, and we learn-at the end of the very slow yet incredibly intriguing show that they have brought these men in for questioning because there has been a similar murder 17 years later. It seems that Cohle isn't too surprised by this news: the show ends when he says, "Start asking the right f—ing questions."
Our questions arise, and it seems the most frequent one is not about solving the case, but about the men. Which man is hiding the darkest dark?
Follow @Hollywood_com