'True Detective' Trailer: Woody Harrelson and Matthew McConaughey Play Bad Cop, Bad Cop
On Sunday, HBO premiered the first full-length trailer for their show True Detective before the Season 4 opener of Boardwalk Empire . In the upcoming drama, Woody Harrelson and Matthew McConaughey play a couple of cops trying to hunt down a serial killer, an investigation that lasts for 17 years. 
In the trailer, a toupee'd Harrelson looks over at McConaughey and asks, "Do you wonder ever if you're a bad man?" McConaughey takes no time to consider, lights up a cig, and replies, "The world needs bad men. We keep the other bad men from the door." It seems justice doesn't always come cleanly in Lousiana. Sometimes you have to get your hands a little dirty.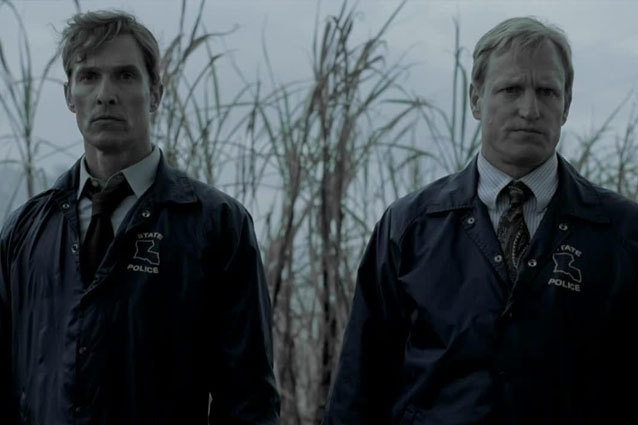 HBO
The new crime drama looks like it will play around with what it means to be a cop, testing just how far these officers are willing to go to get the job done. We see police corruption and shady deals a plenty showcased in the trailer, all set to an eerie pop song to boot. This sneak peek promises a lot of faded morality and great performances from the two leads. The show will also do interesting things with time, flashing back between 1995, when the case started, and 2012 where older versions of the cops are recounting their experiences. We even get a glimpse of an older and weathered looking McConaughey towards the end of the trailer.
True Detective will consist of an eight episode first season, and follow a similar format to the FX anthology American Horror Story where possible future seasons will replace the cast, and tell a whole new story. While there is no firm air date, the show will premiere sometime in January.
More:
Woody Harrelson and Matthew McConaughey Get Dark in 'True Detectives'
'Boardwalk Empire' Season 4 Premiere Recap
10 TV Troublemakers to Watch
---
From Our Partners


A Complete History Of Twerking (1993-2013) (Vh1)


20 Grisliest TV Deaths of 2012-2013 (Vulture)