Turn 'Ground Floor' into a Musical Comedy Show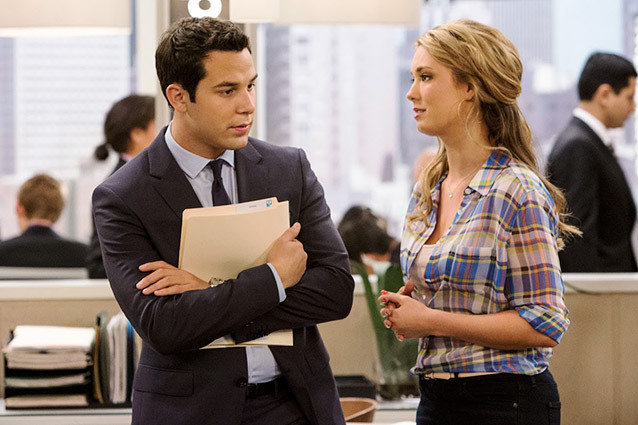 TBS
When Pitch Perfect came out, Skylar Astin became everyone's newest celebrity crush. He can sing, he can dance, he can act, and, c'mon, he looks like he'd be a great boyfriend. Prior to Pitch Perfect, Astin was in the original cast of the Broadway musical Spring Awakening as Georg. (If you haven't listened to the Spring Awakening soundtrack, we definitely recommend it; Lea Michele, Jonathan Groff, and John Gallagher Jr. were in the musical as well before they made the transition to Hollywood.)
Since we adore Astin, we've been patiently — and by patiently we mean watching Pitch Perfect over and over again — for his newest role as Brody on TBS's sitcom, Ground Floor. However, we were disappointed to see a lack of singing on Astin's part. Except for ten seconds of "Your Song" by Elton John in the pilot, Astin's musical abilities aren't even showcased. Ground Floor is just a bunch of not-so-funny jokes thrown on top of a tired Romeo and Juliet premise. 
But you know what might make the show better? Turn it into a musical. Glee has found a niche in the musical comedy/drama genre of television, but who says the series has a monopoly on it. We can't speak for all TV viewers, but it's high time we get another musical comedy show and Ground Floor — well, at least Astin — might be the best option.
Or just give us half an hour of Skylar Astin singing every week. We'd be happy with that.