TV BBQ: What Our Favorite Characters Would Serve on July 4th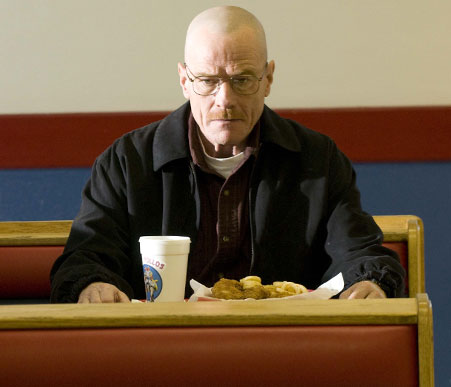 July 4 falls on a Wednesday this year, which means you've only got a single day to eat your weight in hamburgers, hot dogs, potato salad in complete and utter shame. But don't adjust your pants just yet, we've got something else on the menu for the holiday. We've combined two of our most beloved things (television, holiday-themed gluttony) to imagine what a BBQ with some of our TV characters would be like. From Breaking Bad to Revenge to New Girl, let's pull up a picnic bench, fire up the grill, and have a taste of what a Fourth of July bash would be like with some of our favorite characters. (Don't worry, we didn't invite Guy Fieri.)
Breaking Bad's Walter White: What's Walter White cooking? Well, if we were to guess, perhaps some chicken prepared Los Pollos Hermanos-style. Oh yeah, and meth. Tons and tons of meth. (Definitely don't expect at pizza at Walter's meth and chicken party, though.)
The Simpsons' Homer Simpson: If you've ever attended a Homer Simpsons BBBQ ("What's that extra B for?" "That's a typo") you know exactly what to expect: A very greased-up grill, a suckling (and impressively airborne) pig, and Lisa's famous, untouched gazpacho. And of course, no salad. You don't make friends with salad.
Revenge's Emily Thorne: Emily would simply serve a generous helping of revenge, and much like Lisa Simpson's gazpacho, it would be served ice cold.
Mad Men's Megan: Sure, the French-Canadian beauty probably wouldn't know what to do at a Fourth of July BBQ and would serve her only dish (pasta, sometimes thrown at the wall) and break into an ear worm of a French song during an American holiday celebration, but Draper parties are so chic, we'd put up with it.
Cougar Town's Jules: No food to be found here, unless you count pounding grape as an acceptable meal. Grab your own Big Carl and head on down to the Cul-de-Sac for the booziest of BBQs.
New Girl's Schmidt: The fanciest of all the BBQs, Schmidt's July 4th party would be a fine dining experience with a menu that would include plenty of tarragon, chut-a-ney, and scrummy sushi. Just don't offer to help in the kitchen and forget to stick around for the cheese course. That's when things get really sexy. (Sorry, Zooey, no tomato soup here. Might want to head on over to Lisa's BBBQ.)
Which character would have the best BBQ festivities? Who would you spend your holiday with? Share your suggestions in the comments section!
[Photo credit: AMC]
More:
The Final Season of Breaking Bad is a Giant Lie
Summer TV 2012: Your Ultimate Guide