TV Checkup: How is '2 Broke Girls' Holding Up?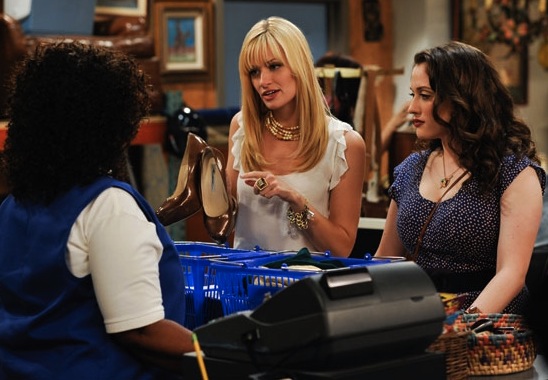 The first few weeks of the Fall TV season are all promise. Pilots flood the TV waves, we all throw down first-takes and start lining up behind the series we think are really going to last. Then comes this little slice of October, when series start to drop or get picked up left and right. One of the latest pick-ups, CBS' 2 Broke Girls, is trucking along steadily into its full season order with a solid 10 million viewers an episode. But I could have told you that would happen. Now that we've spent enough time with Max (Kat Dennings) and Caroline(Beth Behrs) – and of course Chestnut – I think it's safe to say we've got a more accurate picture of our heroines and their plight to save enough money to start their own bakery in the anti-Manhattan, Brooklyn.
The Whitney Cummings and Michael Patrick King creation garners giggles from many viewers and ire from anyone who's ever stepped foot in Brooklyn, but we knew that as soon as we saw the pilot. What can we say about the show now that we're four episodes in? And of course, by accurate picture, we mean less of a clear idea of exactly what kind of show we're dealing with and more of a fully developed opinion of that show. Do we like it? Sort of. What's wrong with it? A number of things. Does it work? We think so.
First, the good news. The bratty, out-of-touch former debutant, Caroline, is actually kind of endearing. She accomplishes the perfect combination of the obtusely awful and lovably naïve – the only way the viewers can really stand a character like Caroline. She tries so terribly hard to understand Max and the life she lives, and why she dates dirty hipster douchebags and eats snacks that probably have more synthetic elements than actual nutritious content. Secondly, after coming up with the idea for Max to use her magical baking skills to save for and open her own bakery, she's the one who keeps the plan on track. While Max is busy complaining and staying mired in the idea that nothing will ever change and nothing good will ever happen to her, Caroline is the one driving the change in Max's life. Sure, Max provides shelter for Caroline and her horse, but Caroline's the one with a bigger heart – which goes against every rich girl/poor girl dynamic we've seen in the sitcom world. And it's a major reason this show works.
But, there are plenty of things working against the series, like the odd comedic dynamic. On one hand, the series is cutesy and simple – something a much younger audience can get a kick out of. On the other hand, as soon as they make a simple little joke, they follow it up with something overly graphic and sometimes even gross. Look, it's not that we ladies don't make lowbrow sexual jokes too – because believe me, we do – it's just that the style of the show really doesn't lend itself to that sort of humor, which makes for a disjointed feel. One minute the show is fluffy and easygoing, the next minute we're filling in the visual blanks of that over-the-top sexual innuendo and grimacing as a result. These jokes seem to surpass the realm of "well, that's what girls talk about" to "look how gross we're being, can you believe it?" This particular issue has Whitney Cummings written all over it – the jokes are reaching and at times, a little desperate. Dennings, who delivers most of these zingers, doesn't exactly help the issue. Her delivery, much like Cummings' delivery on Whitney, is completely noncommittal. It feels as if someone handed her a sticky note with a joke on it just before she delivered the line. It's not obnoxious enough to ruin the whole show, but it's certainly not a draw.
But wait, there's more. I may just be saying this as an actual Brooklynite, but the completely inaccurate depiction of the borough is just insulting. It's a hodgepodge of overdrawn stereotypes about the city – from the Asian man who runs the diner with a thick accent and the absence of a single clue or the fact that every time our broke girls ride the subway it looks like they just stepped back in time to 1973. For a show about New York, it sure seems to know nothing about the city. A little exacerbation is to be expected, but 2 Broke Girls takes too many liberties in the name of comedic effect. I said in my initial review of the pilot that not every show can be Bored to Death, and it's true, but can the CBS series borrow at least half a page from the HBO series' book? Hell, they've got King behind the series and he brought us one of the most lasting depictions (with several lovable, yet excusable inaccuracies) of New York in recent memory (Sex and the City) – can't he do something about this?
But even with these complaints, we're still watching. And why are we still watching? Because even though Max makes us want to give her a real Brooklyn girl smack-down, her on-again-off-again BFF romance with Caroline is a pretty decent hook. It's something sweet and genuine that we can hang on to. Watching Caroline and Max learn to accept each other's wildly different viewpoints, take little forays into each other's worlds, have regular roommate squabbles, and ultimately go through the motions of the sort of forced friendship that's so typical to an urban roommate situation, we can't help but be at least a little charmed. Especially with moments like the one at the end of episode four, when Caroline's dad calls from prison to thank Max for helping his daughter. The humor and the setting may not be grounded in any familiar level of reality and it may miss the mark sometimes, but the series does have an actual heart, as cheesy as it sounds.
It's by no means my favorite new show this season; it's doesn't boast amazing writing; it's not the funniest show or the one with the most talented cast. But it makes sense that Americans are so eager to tune in. It's an escape and it's sweet. Now if we can just get them to understand that there's no such thing as a dentist in a subway station, we could be on our way to something even better.