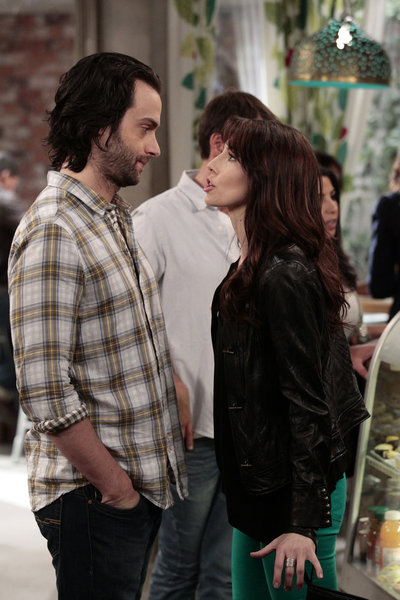 At first, I only watched Whitney out of morbid curiosity. I knew Whitney Cumming's particular brand of comedy was not my cup of tea – I'd put myself through 20 minutes of her comedy special, classily titled Money Shot, and was worse for the wear. Yet, the comedianne's new series landed itself a spot in my favorite block of weekly television: NBC Thursday night comedies. I rolled my eyes consistently for the first three episodes and kept coming back for some reason I couldn't quite put my finger on. I chalked it up to that whole morbid curiosity thing. But after a while, I reached a point where that excuse didn't work and I had to find the real reason. And it's this: Whitney's boyfriend Alex (Chris D'Elia) is pretty great.
Let me be clear: I'm not really a fan of Whitney. I'm still not a Cummings fan. I still think her jokes are to sexual organs what Sarah Silverman's are to poop: an attempt by a girl to be cute and still be like, totally gross, right? I still think the other members of the ensemble cast are far too overdrawn to be enjoyable – though I admire Maulik Pancholy for finally getting out from under Jack Donaghy's thumb. The sitcom scenarios are hardly ever inventive; they just add a sprinkling of modern woman and anti-traditionalism and call it a day. And the obnoxious lengths to which they go in the dialogue to make sure we know that they're totally in Chicago and not at all in a studio in L.A. need to go. Okay, cool, you're going to Lou Malnati's for some authentic Chicago deep dish (though you're likely closer to an In-and-Out Burger), now knock it off. The only thing that indicates this is a Chicago show is that the writers constantly remind us, and frankly, it was old the first time they did it.
But then, after all that, there's D'Elia. He's the rock in a flock of characters that are little better than those spastic dancing balloon people they put in front of carwashes. Even when he's forced to deliver subpar lines, he gives it a little something. The man is infinitely charming and he's got great delivery, not to mention serious commitment. He knows what good comedy is – he's actually a standup comedian outside of Whitney – so he has to know that the writing on the NBC series isn't it, yet he still commits so fully to his character. Scenes like last night's, when Alex (D'Elia) gets so drunk he feels up a pillow thinking it's Whitney's chest aren't exactly the most high-brow or well-written scenes, but D'Elia makes them funny, and that's something I certainly wasn't expecting from this average multi-camera sitcom.
Still, he's not quite enough to save the series entirely. He is, however enough to keep me from watching the last half hour of Grey's Anatomy just to escape the half-hour of awkward jokes from Cummings and the rest of the cast. So there's that.
Whitney airs Thursday nights at 8:30 p.m. on NBC.