TV Has More LGBT Characters Than Ever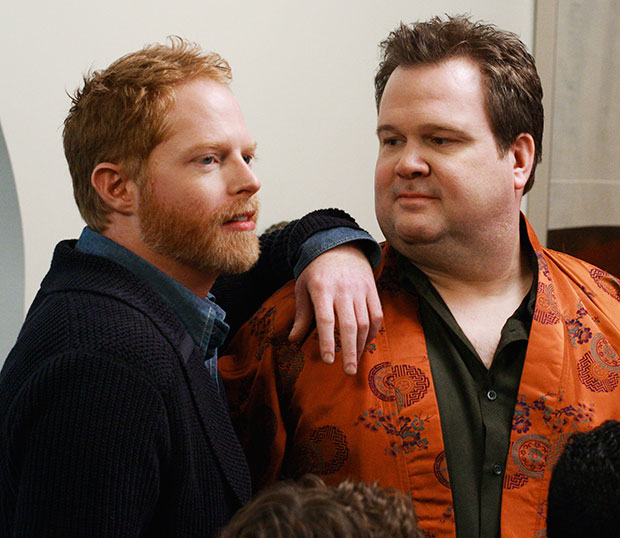 GLAAD has every reason to be just that today: the organization has released their annual "Where We Are on TV" study, and has and reported that "the number of regular LGBT characters on broadcast networks has risen to the highest level ever recorded, while the LGBT character count also increased on cable television." The New Normal is beginning to be, in fact, the new normal on television. 
The study reviewed all 97 scripted shows scheduled to air this dawning 2012-2013 season to calculate how many characters are LGBT, revealing that 31 of 701 regular characters for the television identify as LGBT. 
On network television, ABC is leading the pack. Thanks to shows like
Modern Family
(pictured),
Happy Endings
, and
Suburgatory
, the network has 5.2 percent of their recurring characters (10 of their 194) identifying as LGBT. Last year's leader Fox came in a close second this time around, with 5.1 percent of their characters as LGBT, and is the only network with a transgender character: Unique on 
Glee
. (On cable, fellow teen favorite
Degrassi
also features a transgender character.) 
The most improved broadcast network was CBS, which will now feature 2.8 percent percent of its characters as LGBT, up significantly from last year's 0.7 percent. It's an improvement for the top-rated channel, which came in last on GLAAD's Network Responsibility Index back in August. Of course, if newcomer 
Partners
continues to struggle in the ratings, those numbers could fall yet again. 
Over on cable — which boasts a total of 61 LGBT characters in total — Showtime has the highest number of LGBT characters. Collectively programs like 
Nurse Jackie
,
House of Lies
, and
Shameless
 have given the network 12 LGBT characters in total. On the other hand, HBO has bragging rights, claiming the cable network with the single most LGBT characters in one show:
True Blood
. 
GLAAD President Herndon Graddick said in a statement of the recent stats, "This year's increase of LGBT characters on television reflects a cultural change in the way gay and lesbian people are seen in our society. More and more Americans have come to accept their LGBT family members, friends, coworkers, and peers, and as audiences tune into their favorite programs, they expect to see the same diversity of people they encounter in their daily lives." He added, "It is vital for networks to weave complex and diverse storylines of LGBT people in the different programs they air. When young LGBT people see loving couples like Callie and Arizona on Grey's Anatomy or Degrassi's confident transgender high school student Adam Torres, they find characters they can look up to and slowly start building the courage to live authentically."
The recent "Where We Are on TV" study also tracked gender, ethnic, and racial diversity on television. Or, in some cases, lack thereof. While there have been great strides to having more African-American characters on television (there were no black LGBT characters on network television during the 2011-2012 season), there has been a decrease in Latino/a characters. (GLAAD noted that the 31 LGBT regular characters featured in the 2012-2013 primetime broadcast season, 11 are people of color (35.5 percent), and one will be a person with disabilities, helping boost the low representation of PWD on television.) The report also found that 78 percent of all recurring characters on television are white.
Even with shows with female-leads, like 
New Girl
(which, ironically, has more boys on it than said girls), the study found that there are still more male characters (55.5 percent) than there are female characters (44.5 percent). Looks like television will need to make some necessary adjustments to fit the new normal. You can check out the full Where We Are on TV report
here
. 
[Photo credit: ABC] 
More: 
Everything You Need to Know Before Watching CBS' New Comedy 'Partners'