TV Network Swap: What if 'Downton Abbey' Were on CBS?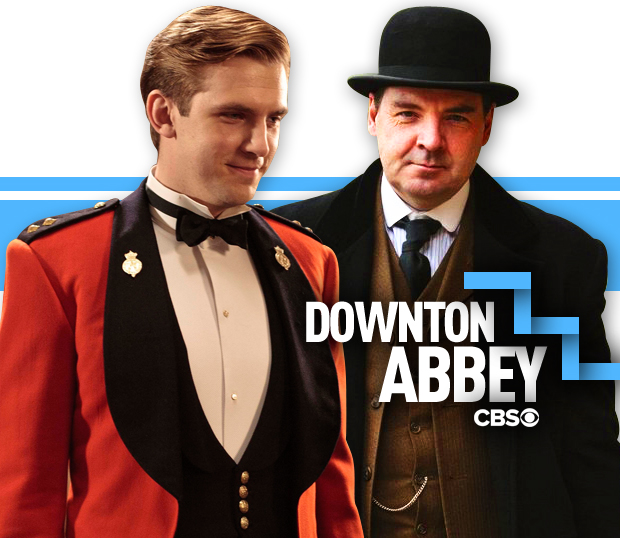 Our favorite shows feel perfect for their respective networks: The nude-friendly Game of Thrones is a tried-and-true HBO series, the tortoise-slow Mad Men fits AMC's intelligent and patient viewers, and The Big Bang Theory never met a laugh track CBS didn't like. But what if those series appeared on different networks? How would the show change? We're exploring just that in our Network Swap series. Next up: What if Downton Abbey aired on CBS?
Series: Downton Abbey
Network: CBS
TV Rating: TV-14/TV-NFVWT. That last one stands for "Not For Viewers With Taste."
Logline: Downton Abbey is an uproarious new multi-camera sitcom that centers on Matt Crawley, a New York City stockbroker who suddenly inherits a sizable fortune — and a sick mansion populated by his three long-lost British female distant cousins — when their parents die, leaving no male heir. (It's an "old fashioned" family.) Since Matt no longer has to work, is bored by his new upper-class suburban lifestyle, and is scorned by the bitter and uptight Crawley sisters, he instantly establishes a "bromance" with his stoner butler Bates, even though Matt's persistent bad behavior is always getting Bates in trouble with his girlfriend, Anna. (A local stick-in-the-mud bank teller, who is pressuring Bates to get married and somehow always in the house.) Matt will get to keep the house and fortune forever if he settles down and has a family, but will his wild womanizing ways (and the scheming, crafty Crawley sisters) get in the way of the life he always dreamed of?
Setting: The sprawling Westchester County, New York house of the recently deceased Earl and Countess of Grantham (they're sort of like the "Countess" from Real Housewives in that everyone jokes about their titles behind their backs), but they only show three rooms — the living room, Matt's bedroom, and the servants' kitchen. There's also a local bar that Matt and Bates frequent when they need to get out of the house.
Demographic: CBS' Downton Abbey dominates the Tuesday at 8 p.m. time-slot, due to its loyal male 18-49 demographic. It is particularly popular with sexually frustrated dads, Midwesterners, and men who don't think women are funny. No one in Brooklyn, New York watches this show. They only watch reruns of Breaking Bad on Netflix. 
Pilot Plot: We meet Matt, who is hungover in bed with a beautiful New York City woman when he gets the call that he's now a very wealthy man. He quits his Wall Street job, packs his bags, and moves into Downton, where he is hilariously spurned by all three Crawley sisters and their wacky live-in cougar grandmother (Carolyn Hennesy) who refers to herself as a "Dowager Countess." He quickly bonds with Bates (who just got into yet another fight with his girlfriend) over a late night bottle in the jacuzzi. They bitch about the women of the Abbey, and a friendship is born. 
Breakout Star: Sherri Shepherd, who plays the sassy, brassy, overweight cook Ms. Patmore. She's never afraid to say what she's thinking — and this large and in charge cook has a real "taste" for Matt. Her off-the-cuff one-liners are the new "How you doin'?"
Soundbite: "Well they don't call me Countess for nothing — but I count men, dear, not numbers." — The Dowager Countess, when Mary realizes that the recession has caught up to the estate, and some of them might need jobs.
Sweeps Twist: After a wild night, Matt wakes up in bed next to the Dowager Countess! He knows this will set off Mary, the uptight oldest sister who is Matt's main foil/obvious eventual soulmate. Distraught, and with the drunken Countess still passed out, he calls Bates to help him carry her back to her own room — but when Anna somehow catches them, all hell breaks loose. The sisters stop speaking to Matt and their grandma, and Bates is forced (by Anna) to quit — leaving Matt with no choice but to replace him with the scheming, comedically gay Thomas, who had been vying for Bates' position (and Matt's attention) all along. Uncomfortable gay come-ons and laugh tracks abound!
Reason People Watch: For the guys, Matt is living the dream — he's an everyman who suddenly gets reversed New Girl'd, only with hotter roommates and a ton of money. For the ladies, Matt's puppy dog eyes and occasional self-reflection make him a lovable antihero — and you can cut the sexual tension between him and Mary with one of Patmore's knives. Also, everyone knows that when single men and women try to platonically live together, hilarity ensues. 
What the Critics Say: "If this is what a 'modern family' looks like, we'll take the old-fashioned type." "A must-watch for fans of Two and a Half Men." "Ballsy, bawdy, broad comedy fun — CBS at its very best."
Emmy Odds: Bates is a long-shot for Best Supporting Actor, but as soon as Parsons is out of the picture he'll be a shoo-in.
Spin-Off Possibilities: Who doesn't want to see Ms. Patmore's working-class, urban family life?
Follow Shaunna on Twitter @HWShaunna
[PHOTO CREDIT: PBS]
MORE:
'Downton Abbey' Season Three Trailer Is Full of Spoilers
'Downton Abbey' Dish: Season Three is Shirley vs. Maggie