TV Network Swap: What If 'Jersey Shore' Was on PBS?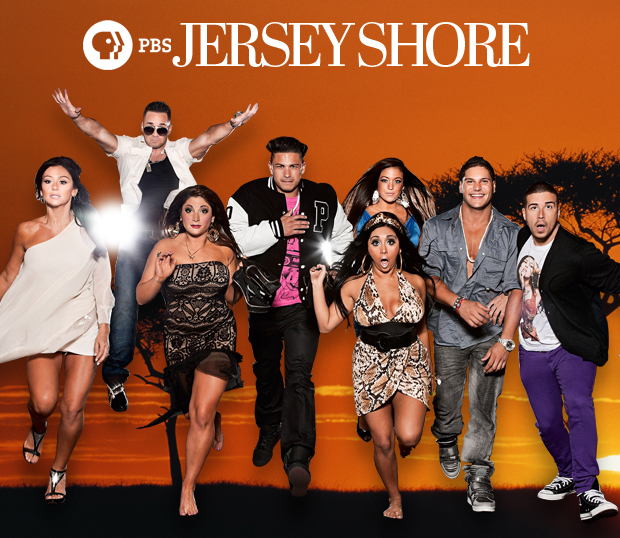 Our favorite shows feel perfect for their respective networks: The nude-friendly Game of Thrones is a tried-and-true HBO series, the tortoise-slow Mad Men fits AMC's intelligent and patient viewers, and The Big Bang Theory never met a laugh track CBS didn't like. But what if those series appeared on different networks? How would the show change? We're exploring just that in our Network Swap series. Today we look at Jersey Shore if it were on PBS.
Series: Jersey Shore
Network: PBS
TV Rating: TV-G (Congress will have PBS' head if they can't show it for everyone.)
Logline: You thought Planet Earth showed you some exotic species, welcome to the wild world of the guidos. Behold their natural seaside habitat, where their kind converge in large nightclubs for their strange mating rituals. Watch them hunt for their favorite foods – fried pickles and frozen margaritas – and then eat them in the warm springs that they say is like a hot tub. Then, once drunk and full, they will go to war with each other like packs of gorillas. You've never seen a nature show this extreme. Witness the greatest sociological experiment of our time unfold, when these eight mid-Atlantic 20-somethings are dropped in the African wilderness. Will they survive?
Demographic: People who are too cheap to pay for cable but still want to feel like they are morally superior to some people.
Cast: Snooki, JWOWW, The Situation, DJ Paulie D, and the rest of the gang, of course. Wouldn't it be fun to throw them into the wild and see how they survive?
Breakout Star: Petunia, the actual gorilla that Snooki tries to have a relationship with.
Soundbite: "I never thought GTL would stand for Gorillas, Tigers, and Lions!"
Sweeps Twist: The group can choose between spending another month in the Savannah or returning to the house to live with Angelina. What will they choose?
Reason People Watch: Don't you want to see if Snooki's animal prints measure up to the real thing?
What the Critics Say: They will say it is a groundbreaking work of genius that fuses both high and low culture. The only thing that will be missing is Sir Richard Attenborough's voice over work.
Spin-Off Possibilities: We Bought a Zoo: Watch as the cast of Jersey Shore returns to the States and opens up an animal-themed amusement park featuring all their new friends from the wild.
Follow Brian Moylan on Twitter @BrianJMoylan
More:
Network Swap: What if 'Two and a Half Men' Were On TLC?
TV Network Swap: What if 'Revenge' Were on HBO?