TV Network Swap: What If 'Parks and Recreation' Were on CNN?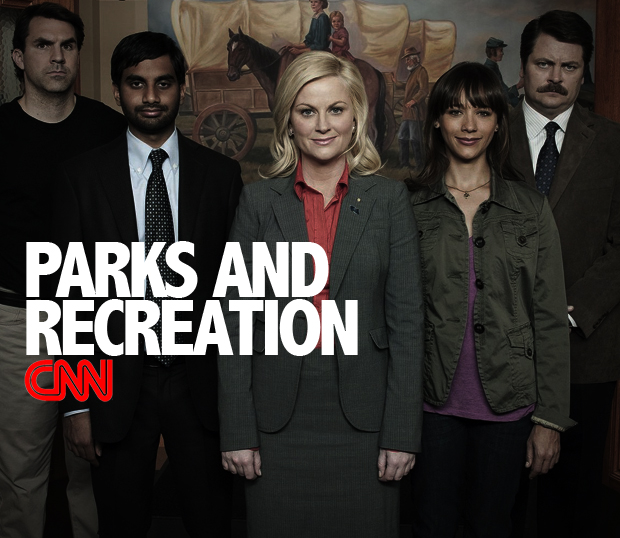 Our favorite shows feel perfect for their respective networks: The nude-friendly Game of Thrones is a tried-and-true HBO series, the tortoise-slow Mad Men fits AMC's intelligent and patient viewers, and The Big Bang Theory never met a laugh track CBS didn't like. But what if those series appeared on different networks? How would the show change? We're exploring just that in our Network Swap series. Next up: What if Parks and Recreation aired on CNN?
Series: Parks and Recreation
Network: CNN
TV Rating: TV-14 for the addressing of issues like government corruption and horse funerals, and for a highly inappropriate glorification of candy and waffles.
Logline: "Together, we can build a better Pawnee."
Setting: Pawnee's local television studio (providing Joan Callamezzo does not find out).
Demographic: The citizens of Pawnee, Indiana. And not even all of them — mostly just Mel, Lawrence, and Marcia Langman.
Pilot Plot: On the first episode of the series, Councilwoman Leslie Knope launches an in-depth investigation of the Pawnee-based Sweetums Candy Corporation's excessive pollution, and the resultant effects on the city's parks. She debates the issue at hand with costar Ron Swanson (who takes a staunch "anti-everything" position on the matter); field reporter Andrew M. Dwyer goes undercover as a Sweetums employee to get to the bottom of the issue, but gets sidetracked by a conveyer belt of candy bars. Special guest appearance by Jean-Ralphio Saperstein… despite countless attempts to have him removed from the studio.
Cast: Councilwoman Leslie B. Knope, Advocate for the Downfall of Government Ron Swanson, Swag Analyst Tom Haverford, "Numbers Man" Benjamin Wyatt 
Breakout Star: Field Reporter/Undercover Investigator/House Bandleader Andrew M. Dwyer 
Soundbite: "Counterpoint: No." – Ron Swanson 
Reason People Watch: To find out the latest, most pressing news… exclusively involving public parks in a midsize Indiana suburb.
What the Critics Say: "This is a show that you can watch on television." – Perd Hapley 
Emmy Odds: The awards always favor rival program, Eagleton Today.
Spin-Off Possibilities: Chris Traeger "MD" — Chris Traeger's Sanjay Gupta-inspied health-oriented news series about the medical dangers of red meat, a sedentary lifestyle, and not smiling ALL THE TIME; April Ludgate 32° — the latest international news stories delivered, analyzed, and critiqued harshly for being stupid and uninteresting by Pawnee Community College graduate April R. Ludgate.
More:
TV Network Swap: What if 'Louie' Were on The CW?
TV Network Swap: What if 'Downton Abbey' Were on CBS?