TV Network Swap: What if 'Revenge' Were on HBO?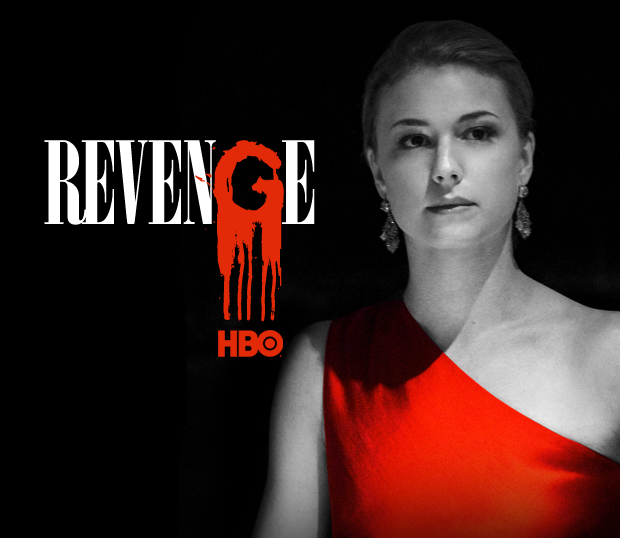 Our favorite shows feel perfect for their respective networks: The nude-friendly
Game of Thrones
is a tried-and-true HBO series, the tortoise-slow
Mad Men
fits AMC's intelligent and patient viewers, and
The Big Bang Theory
never met a laugh track CBS didn't like. But what if those series appeared on different networks? How would the show change? We're exploring just that in our Network Swap series. First up: What if
Revenge
on HBO?
?
Series: Revenge
Network: HBO
TV Rating: TV-MA
Logline: In the Hamptons, it's all about how much money you have, where you keep it, and who you screw to get it, but one woman isn't after money. She's willing to weasel her way into any man's pants and bash in as many skulls as she can, all for the sake of Revenge. Emily Thorne (Evan Rachel Wood) is new to the Hamptons, but surprisingly, she takes to the lifestyle like a barracuda to water. And that's because she's not new at all. In fact, she was raised in the Hamptons until a grand-scale con painted her father as a mass murderer. Emily is back to exact her revenge, and undermine the opulence and decadence of the world that so cruelly robbed her of what could have been a happy, healthy life. They think the world is their oyster, but they're about to learn that money can't save them now.
Demographic: Largely the same as Revenge on ABC: a split of men and women across the 18-49 age group. Of course, there would likely be a spike in male viewership thanks to the heightened sexual and bloody elements requisite of an HBO series.
Cast: Evan Rachel Wood as Emily, Michael Pitt as Nolan, James Wolk as Daniel, Bryan Greenberg as Jack, Madeleine Stowe as Victoria (you don't paint over the Sistine Chapel)
Breakout Star: Juno Temple as traitor and annoyance-extraordinaire Ashley, PR expert to Victoria Grayson. After just a few episodes, we'll absolutely love to hate every last word that comes out her pretty, little mouth.
Soundbite: "Life is a bi**h, darling. Trust is the one f**king thing I cannot afford." —Victoria 
Sweeps Twist: Connor Grayson is not only cheating on Victoria, but there's graphic, surprisingly high-quality web video of the two of them doing the horizontal mambo in their birthday suits. And in some angles that aren't exactly horizontal…
Reason People Watch: The twists and turns are heart-stopping and the dialogue is cutthroat (but really, the sex scenes are amazing and we're getting a little tired of watching Bill the Vampire deliver his jackhammer sex to whoever he's on top of this week on True Blood).
What the Critics Say: Many call it the ever-generous "romp" or "guilty pleasure." Despite its origins in the novel The Count of Monte Cristo, critics claim the origins of the classic tale are largely ignored to make way for more surprising twists and sexual encounters. Like True Blood the series attempts to bring the socio-political elements into play, but they fall flat compared to the sexual exploits of the characters. Still, none of these critics would dare to stop watching… or complaining about watching.
Spin-Off Possibilities: Victoria Grayson doesn't do knock-offs and HBO doesn't do spin-offs, dahling.
Follow Kelsea on Twitter @KelseaStahler
[Photo Credit: ABC]
More:
TV Network Swap: What if 'Two and a Half Men' Was on TLC?
'True Blood' Season Finale Recap: I'm Melting, Melting!