TV Network Swap: What if 'Sesame Street' Was on TNT?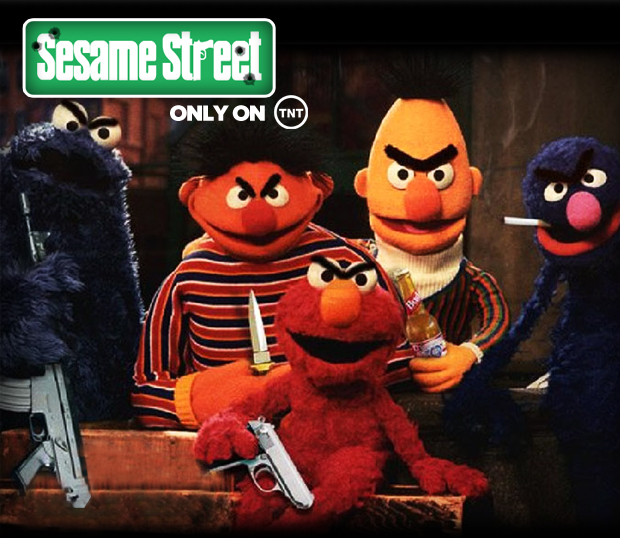 Our favorite shows feel perfect for their respective networks: The nude-friendly Game of Thrones is a tried-and-true HBO series, the tortoise-slow Mad Men fits AMC's intelligent and patient viewers, and The Big Bang Theory never met a laugh track CBS didn't like. But what if those series appeared on different networks? How would the show change? We're exploring just that in our Network Swap series. First up: What if Sesame Street aired on TNT?Series: Sesame Street
Network: TNT (We know drama… and the alphabet.)
TV Rating: MA (for sexual situations, Muppets)
Logline: A multicultural band of differently-furred individuals live at odds with the humans in a run-down slum on Chicago's south side.
Pilot Plot: After their parents die in a freak sewing accident, three orphans — Grover, Zoe, and Elmo — find refuge in a group home owned by a street-smart philanthropist known as "Big Bird." The trio soon learns that life on Sesame Street is fraught with gang violence (run by mob boss Oscar "The Grouch" Lazzarini), eccentric terrorism (a sadistic, math-obsessed serial killer known as The Count) and a greedy industrialist who threatens to demolish the entire avenue (the wealthy Mr. Hooper).
Cast: Adam Brody as Grover; Jane Levy as Zoe; Nolan Gould as Elmo; Michelle Rodriguez as Maria; Michael Clarke Duncan as Big Bird; Michael Chiklis as Oscar "The Grouch" Lazzarini; Ken Jenkins as Mr. Hooper; Adrien Brody as The Count; Jim O'Heir as Aloysius Snuffleupagus; and Dame Maggie Smith as Dame Monster Smith.
Breakout Star: As ex-cop Maria, Michelle Rodriguez breaks out from the furry crew for her witty one-liners and ovaries-to-the-wall approach to fighting Sesame's brand of scumbags.
Soundbite: "Four! Four motherf**kers who vant to die today!" — Homicidal maniac The Count
Sweeps Twist: Grover is taken into custody when beloved gay couple Bert (Hank Azaria) and Ernie (Jimmy Kimmel) are found brutally murdered in their apartment — with blue fur and coke-laced cookie crumbles at the scene of the crime.
Reason People Watch: "I really like the bright colors on the monsters." — Kayden, 5; "My favorite is Big Bird, he is the nicest and teaches me things like how to tie my shoes and be nice to people." — April, 6; "The chick who plays Maria is a f**king smokeshow!" — Doug Patterson, 28.
What the Critics Say: "I'm never letting my child watch this program again."
Emmy Odds: Chiklis receives a Supporting Actor in a Drama nod for his sympathetic crime boss Oscar; perennial favorite John Goodman earns a Guest Actor in a Drama nomination for his heartbreaking turn as mentally-challenged assassin Cookie Monster; snub for Costume Design; win for Art Direction.
Spin-Off Possibilities: A prequel about Big Bird's former life as a gangster — Breaking Bird — as well as a reality spin-off for Bert and Ernie on Bravo (Bert and Ernie Take Miami).
Follow Marc on Twitter @MarcSnetiker
MORE:
TV Network Swap: What if 'Two and a Half Men' Was On TLC?
TV Network Swap: What if 'Downton Abbey' Were on CBS?