TV Tidbits: Ted Danson and 'CSI' to Return for Season 14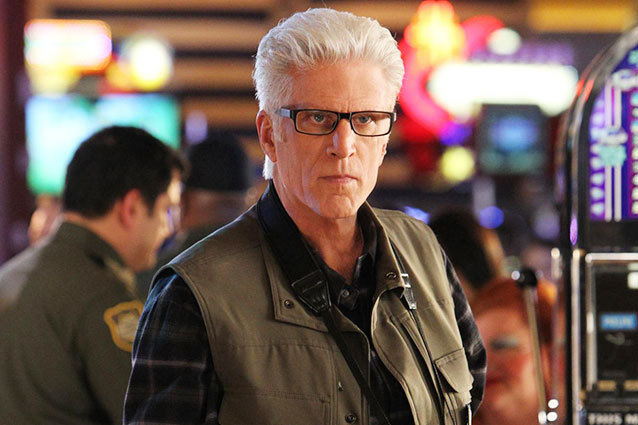 More Dead Bodies: CSI lives on! Though the show features many unfortunate victims, it has consistently killed (ha!) in the ratings, and so a Season 14 is set in stone. Ted Danson will return, as well as Elisabeth Shue, George Eads, Jorja Fox, Eric Szmanda, Paul Guilfoyle and Robert David Hall, along with Wallace Langham, Elisabeth Harnois, David Berman and John Wellner. [EW]
ABC Sets Finale Dates: It's that time! ABC announced via release today the finales of its primetime offerings — March 27 we'll say goodbye to The Neighbors, April 17 Suburgatory, May 2 Wife Swap, May 5 Red Widow, May 7 Splash, May 12 Once Upon a Time and Revenge, May 13 Castle, May 16 Grey's Anatomy and Scandal, May 17 Shark Tank, May 19 America's Funniest Home Videos, May 21 Dancing With the Stars, May 22 The Middle, Modern Family, and Nashville, and May 28 Body of Proof.
It's Showtime for James Woods: James Woods has joined Liev Schreiber and Jon Voight in the new Showtime drama Ray Donovan, the network announced. The series will focus on Schreiber, a "fixer" who runs into trouble when his father (Voight) is released from prison. Woods will play a family friend.
Hot in Herre: Betty White can't retire yet, now that TV Land has picked up a fifth season of her sitcom, Hot in Cleveland. The new season will start filming in the fall, and will bring the comedy past the ever-important 100-episode milestone.
Follow Shaunna on Twitter @HWShaunna
[PHOTO CREDIT: CBS]
---
You Might Also Like:


Topanga's Revealing Lingerie Shoot: Hello '90s!


25 Stars Before They Were Famous