TV Shows We'd Love to See Get The Muppet Treatment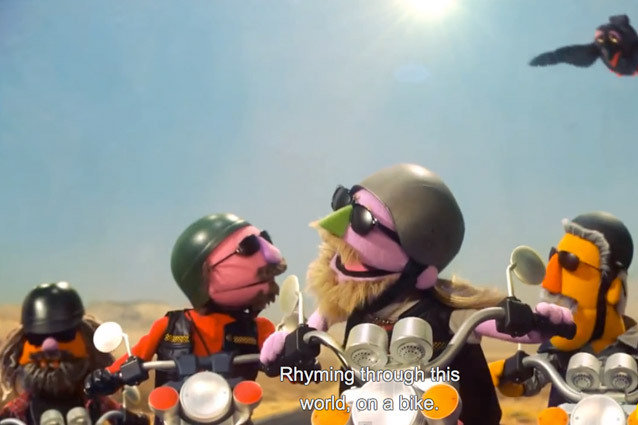 Sesame Street
As a parent of a three-year-old who is in a Sesame Street phase (where 'phase' is defined as 'two years and counting'), I have seen a LOT of episodes. It's at the point where i could probably quote much of the past two seasons verbatim. One thing I have always loved though, is when the show parodies popular prime-time shows and makes it kid-friendly. I'm talking about Law&Order:Special Letters Unit, CSI: Rhyme Scene Investigation and The Closer, to name a few. Recently, they did a Sons of Anarchy parody and it got me thinking, which other shows would we like? Here's five of them:
Justified
Raylan Givens just walks around saying "It's justified!" Not tipping someone for bad service? "It's justified!" The Muppeteers wouldn't even have to use a new Muppet for Boyd Crowder – they could just use Guy Smiley and add very long, spiky, unkempt black hair. Crowder would keep crowding Raylan's space and trying to get him to push or punch him. "That's not justified!"
Person of Interest
In a world of dreary, dull people, Reese and Finch look to find interesting people. Reese: "You didn't make me fall asleep after two sentences. You're interesting. We like that. Finch?" Finch: ""Yes, the Machine told us that you have some very intriguing hobbies." Interesting Person:"Um… I like to go motorcycle riding?" Both Reese and Finch:"FASCINATING!"
Elementary
Sherlock and Watson solve crimes… in an elementary school. "I deduce that YOU are the one stealing this poor child's lunch money. " Holmes could have an addiction to sugar. "Watson.. I find I am in need of candy, quickly!!!" "No, Sherlock! You must fight it!" "I can't! If I don't have sugar immediately, I cannot concentrate! *as an aside* Kids, the word of the day is 'concentrate'*"
Hawaii Five-0
All the cast members could be fifty. "Why are we this old?" "It's Hawaii Five-0. Five-0 equals fifty." "I thought it meant a police code." "Really?" "Yup." "We're gonna have to do some re-casting then…"
The Middle
Everyone in the Heck family tries to stand in the middle of something – a room, a line, you name it. Chaos ensues when one of the kids decides that standing in the front of the line is MUCH better. They try to find some middle ground to get to a solution. The word of the day could be 'compromise'.
Hey, Sesame Workshop – I'm free to do some writing for you if you like these ideas…
More:
Celebrity Parents Gone Wild
TV Characters That Ruin Everything
Awesome Celebrity Websites
---
From Our Partners:


40 Most Revealing See-Through Red Carpet Looks (Vh1)


15 Stars Share Secrets of their Sex Lives (Celebuzz)