TV Tidbits: A 'Smash'-ing 'Will & Grace' Reunion, NBC Gets Gothic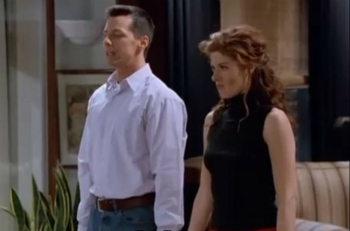 Smash-ing Will & Grace Reunion: Oops, they're about to do it again. (I can't be the only one who cherishes this classic TV moment.) NBC's Smash is delivering a Will & Grace reunion to write home about. Sean Hayes is joining his former partner in crime, Debra Messing, on the small screen, and get this: it's going to happen a few times, because Hayes is slated as a recurring! The Emmy-winner will play a comedic actor making his Broadway debut and a major pain in Ivy's (Megan Hilty) rear. It would seem that he'll spend more time with Hilty than Messing, but we can hold out hope the former Manhattanites will share at least a moment or two of screen time.
Showtime Joins the Mob… With The Help of Jodie Foster: Foster is taking her directing talents to television (we can't believe it either). After the success of Homeland it seems Showtime is eager to ramp up the serious drama. Foster will direct and executive produce Angie's Body, a drama about a sexy and seriously dangerous woman at the head a crime family. Showtime is hedging quite a few bets on the shoulders of powerful women and we're loving it.
NBC Stacks Up: The Peacock network is hard at work trying to play catch up. First, they bought a Gothic New Orleans drama from Ringer (CW) creators Eric Charmelo and Nicole Snyder, no doubt as a means of following American Horror Story's ample lead. Second, NBC is developing Peter Berg's Hench. The Berg project is a drama (why so serious, NBC?) about an average Joe who makes extra cash subbing for super villains. NBC hasn't fared too well with super heroes (The Cape did not merit #SixSeasonsAndAMovie), but perhaps with a backer like Berg and the evil side of the hero coin, they could fare a bit better.
CBS Heads to the Islands, Mon: You'd think we've got enough medical dramas on television, but you'd be wrong. CBS just bought the rights to yet another potential medical show based on the book Island Practice: Cobblestone Rash and other books based on Dr. Timothy Lepore, an eccentric and actual Nantucket doctor who has serviced the region since the '80s. Hey, someone needed to get on the scene and replace the wacky-doctor-shaped hole in our hearts now that House is over.