TV Tidbits: Good News for 'Last Man Standing' and 'Malibu Country', Sorry, 'Inbetweeners'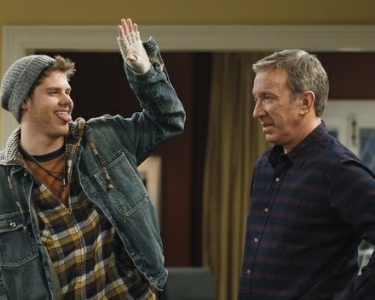 It's the most wonderful time of the year — well, it's wonderful for us, but not so much for everyone who works on a struggling show and the networks who have to decide what to do with them. We already told you that Emily Owens, MD and The Mob Doctor got the ax today, but they weren't the only ones who learned their fate this Wednesday. Find out who is returning, who is saying goodbye, and a snippet of casting scoop below!
Friday Night Funny: ABC has picked up full seasons of Last Man Standing and Malibu Country, but they won't be your usual 22-episode stints. Because the comedies premiered so late in the 2012-2013 season, the network only needs five more episodes of each instead of the traditional back nine. (Networks usually order 13 episodes to start, then expand from there.) Congrats to stars Tim Allen and Reba McEntire! [Deadline]
FX Announces Premiere Dates: Fear not, TV fans: Raylan Givens and his hat will be back on your screens soon enough. Justified will return to FX for Season 4 on Tuesday, Jan. 8, 2013 at 10 p.m., in case you want to make a note to set your DVR. Meanwhile, the network's comedies will return Thursday, Jan. 17, with Season 2 of Anger Management debuting at 9 and 9:30 p.m., Archer Season 4 following at 10 p.m., new series Legit at 10:30 p.m., and Totally Biased with W. Kamau Bell at 11 p.m. 
The Inbetweeners Gets the Ax: MTV has decided not to produce a second season of The Inbetweeners — a remake of the British comedy series of the same name, that follows four awkward teenage boys trying to make it through high school in one piece. "While we won't be moving forward with another season of The Inbetweeners, we enjoyed working with the show's creators and such a talented, funny cast," an MTV rep said in a statement. [EW]
From One Tree Hill to Southland: Lucas Scott is moving on, y'all. Former One Tree Hill star Chad Michael Murray is finally leaving the angsty teen drama of his past behind and opting for a more age-appropriate role on TNT's Southland. Murray will join the drama series' fifth season as Dave Mendoza, a likable police officer who is also considered to be a bit of a loose cannon. The former Tree Hill Raven will be sharing many scenes opposite The O.C.'s Ben McKenizie (a.k.a. Officer Sherman), turning the gritty cop drama into a veritable '00s-era teen idol reunion. [TVLine]
Follow Jean on Twitter @HiJean
[PHOTO CREDIT: ABC]
MORE:
TV Tidbits: 'Arrow' Casts Its Biggest Villian, AMC Amps Up The Drama
TV Tidbits: 'Mindy Project' Casting Shake-Up, 'Simpsons' Produce Judd Apatow Script
TV Tidbits: NBC Debuts a 'Smash'-ing New Poster, 'Arrow' Nabs a 'True Blood' Star

'Two and a Half Men' Star Says Sorry: Sincere or Lame Apology?

'X-Men' Sequel: Huge Casting News!