TV Tidbits: Honey Boo Boo Gets into Holiday Spirit, 'Hannibal' Nabs Gillian Anderson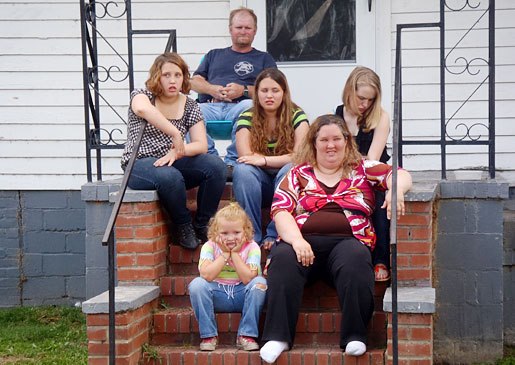 Tidbits time! It's your favorite time of day, America: that time when the whole family gets together and huddles around the computer screen to revel in the warm glow of today's best bits of television news. Tonight we join hands and celebrate the many gifts we have received today: from Burbank, California to McIntyre, Georgia, if it can be filmed and put on the small screen, it will be. So let's dig in to the best of what our best friend TV has to offer.
Spend the HOLLAday Season with Honey Boo Boo: A dollar isn't the only thing that makes her holler: so do the holidays! TLC has released the new schedule for their self-described "HOLLAday" episodes of Here Comes Honey Boo Boo, slated to premiere in January. Halloween, Christmas, and Thanksgiving will all be spotlighted over 4 episodes of the new season starting January 6th. And the phenomenon continues. [The Huffington Post]
Gillian Anderson is Returning to TV, Clarice: Brace yourselves, sci-fi nerds: your resident queen, X-Files alumna Gillian Andersonis making her return to television with Hannibal, it was announced today, after a 10 year absence from the small screen. The hotly-anticipated new show (with an incredibly cast list to boot) will see Anderson play the role of Dr. Bedelia Du Maurier in a multiple-episode arc. For those unaware, Dr. Du Maurier isn't just any psychiatrist: in fact, she's a murderous psychiatrist AND, coincidentally, the therapist of Dr. Hannibal Lecter. "Every therapist needs their own head examined and we are ecstatic that Gillian Anderson has chosen Hannibal to mark her return to American television…" explained creator/producer Bryan Fuller in a statement. [EW]
The CW Gets Real..ity: Perennial young adult favorite The CW is broadening its horizons in the world of reality television by picking up orders for two new reality series: The Hunt and Perfect Score. According to a press release from the net, The Hunt is "an intense wilderness competition" between 12 teams of two, trying to outrun, outwit, outlast (hmm, why does that sound so familiar?) each other under seemingly-insane conditions (they get no food, water, or shelter) to win a "huge cash prize." If this didn't already sound like a walk in the park to you, the teams must also rely on their own physicality, hunting, and survival skills to endure the elements and avoid capture. So like, The Hunger Games? Less terrifying-sounding than that is Perfect Score, which is a dating competition that gives players a chance at true love! to win a date, but also the opportunity to win cash if they can successfully identify whole their perfect match is (based on a compatibility test they all took ahead of time). Game, set, match.
FX is Keeping it in The Family: Margo Martindale, who won an Emmy for her work on Justified, is joining the network's new drama The Americans in a recurring role. The Cold War-set show stars Keri Russell and Matthew Rhys as Russian spies living in the U.S. Martindale's character will also be a KGB spy living outside of Washington, D.C. [The Hollywood Reporter]
ABC Believes in John Leguizamo: A few days after the network decided not to go forward with his comedy pilot, The Kings of Van Nuys, the same network has commissioned another starring vehicle for the actor, based on his own life. The as-yet-untitled project features Leguizamo as a "husband, father, and fish out of water on the Upper West Side of New York." He'll co-write the comedy. [Deadline]
Is The Killing Losing Characters?: The show might have gotten a new lease on life at AMC (via Netflix), but at least one of the previously canceled drama's stars won't be back for Season 3. Billy Campbell, who played mayoral candidate Darren Richmond on the Seattle-set series, will not return. Neither will Brent Sexton and Michelle Forbes, who played the parents of the girl who was murdered in the pilot, will also not return. However, series stars Mireille Enos and Joel Kinnaman will be back as Detectives Linden and Holder. [Variety]
[Photo Credit: TLC]
Follow Alicia on Twitter @alicialutes
Additional reporting by Jean Bentley. Follow Jean on Twitter @hijean
More:
TV Tidbits: Jennifer Love Hewitt Searches for Mr. Darcy, Comedy Central Sets 'Tosh.0' Premiere
TV Tidbits: 'Castle' Stages Shiny 'Firefly' Reunion, '30 Rock' Nears the End
TV Tidbits: 'Up All Night' Nabs New Showrunner, MTV Heads to 'Washington Heights'
'90210' Star Shenae Grimes' Engagement Ring (FIRST LOOK PHOTOS)

Kim Kardashians Best Bikini Moments (PHOTOS)