Study: Women on TV Murdered More Violently Than Men, But Why?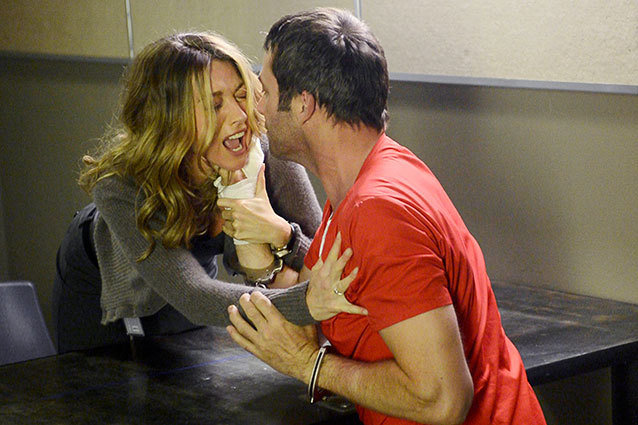 On television, a female character is more likely to be strangled or stabbed than shot. But is that a symptom of reality pervading art, or is it an example of television amping up the drama to get a bigger reaction?
TV is a dangerous place, what with the meth dealers, zombies, gangsters, vampires, and legions of cops and robbers on every network. Characters are practically looking for danger every time they step into a frame that doesn't reside in the cozy confines of a sitcom. Hollywood.com recently released the stats of a study by Funeralwise.com, which named The Walking Dead the deadliest show on television, but the report also included an interesting statistic about the fate of women in televisual danger: "While guns were the most prevalent method for killing both genders, females died 70 percent of the time in other ways — by knife or blade, beating and strangulation, poisoning, vehicle crashes, etc." The quick, clean, relatively emotionless method of murder by gun is a fate mostly saved for male TV characters, many of which occupy the zombie/henchman/lackie categories.
RELATED: Redford and Obama Ask: Is Gun Violence in Movies a Problem?
It's a plot point we see frequently on shows like Law and Order: SVU and, more recently, Fox's new serial killer drama The Following, which features numerous brutal and sexualized female killings. And the self-professed network for women, Lifetime, thrives on this brand of drama. According to the study, women are treated more brutally and more personally, dying at the very close hands of an attacker using a knife or their hands to rip away the last breaths of life.
But why? What is it about women that makes TV writers consistently doom them to deaths that are arguably more brutal and personal than the more distanced firearm dispatch?
The true life stats don't exactly add up to the picture we're seeing on television. According to the CDC's most recent study, in 2010, women and men were almost equally likely to be killed by firearm (11,078 men vs. 9,340 women) and the greater disparity came in the "homicide by other and unspecified means" category, where we see almost twice as many men killed by non-firearm assault than women. It appears that in reality, men are more likely to be the victims of hand-to-hand combat, stabbing, and other non-firearm homicide.
And when looking at the murder rates gathered by the FBI in 2011, out of a total 13,164 murders in the U.S., 8,583 were the result of various firearms and only 1,694 were from knives, with an even tinier 756 deaths by hand. If anything, the evidence seems to be stacked against the increased rate of knives, strangulation, beating, and other non-gun violence. So, if stats aren't behind television's numbers, why is the medium guilty of profusely portraying this level of intimate violence?
RELATED: NRA on Gun Violence: Movies Are The Problem
The first answer is likely the simplest: history. For ages, women have been portrayed as the weaker sex in literature, film, and eventually television. "It funnels into the age-old gender narrative and the power imbalance," says women's self-defense guru and spokesperson Melissa Soalt.
If we look back at the horror genre in literature, before the moving picture was even introduced, we still see Bram Stoker writing women as lusty subjects for Dracula's bloody bite. Even in Mary Shelley's Frankenstein, Victor Frankenstein's love Elizabeth is killed by brute force at the hands of the monster. This concept is not new, and it has yet to be filtered out of most dramatic and violent narratives to this day. 
The second answer is one that's a bit harder to take: The U.S. murder rate is more than 20 points below the nation's rate of rape attempts. While rape isn't exclusively a women's issue, a great majority of reported rapes are committed against women. As disturbing as it is, the narrative of women in danger has written itself in the real world and perhaps that's why it's written on television as well. 
"It's bad enough that women are fighting this reality — we're fighting it every day," Soalt says.
And the truth of it is that while men are the majority of victims of assaults resulting in death in the U.S. (77 percent, according to the Bureau of Justice), women are more likely to be fatally harmed by someone they know intimately, like a spouse, family member, or close friend. Which, in a narrative sense, would make for a greater emotional impact when death is delivered by hand rather than by the callousness of a firearm.
But this narrative choice might actually be detrimental to our understanding of violence.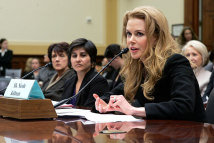 "[This kind of violence] rises to a level of violence porn and it's really dangerous," Soalt says. While there's no direct correlation between brutality on television and the same act in real life, it can't be denied that the proliferation of these images normalizes the acts. That is, that seeing this sort of intimate violence over and over desensitizes our reactions to it.
It's something even Nicole Kidman admitted when she came before U.S. Congress in 2009 to urge them to take action on violence against women. When asked if the movie industry played a "bad role" in promoting violence against women, she answered "probably" adding she avoids such roles. "I can't be responsible for all of Hollywood but I can certainly be responsible for my own career," she said.
RELATED: Will Hollywood Start Limiting Gun Violence After Sandy Hook?
But what can TV writers and producers do to combat this horrifying statistic? We're working against reality and history, but there are moves the industry can take. According to Soalt, it helps to see women stepping up to the plate against their attackers during what she calls "the moment of truth." In many shows and films, this moment of truth is used as a prime shot to express a female victim's terror as her attacker closes in, but according to Soalt, that point can also be used to turn the tides.
It's something we see time and again from the female characters on The Walking Dead. It may be the deadliest show on television, but it's one place where women don't occupy a victimized space. They fight back, and when it comes to the moment of truth, when they must choose between fight or flight, they use that brief moment of clarity to assess their surroundings and defend themselves. It's also found in this weekend's romantic offering Safe Haven, in which Julianne Hough's character finds a way to stave off an attacker. So, clearly, changing the narrative is possible.
The more the rest of the industry follows suit, the more simulated violence might start to appear a little less normal and a lot less often.
Follow Kelsea on Twitter @KelseaStahler
[Photo Credit: David Giesbrecht/Fox; Susan Walsh/AP Photo]
---
From Our Partners:

'SI's 25 Sexiest Swimsuit Covers of All Time (Vh1)

Pregnant Kate Middleton Bikini Pics Spark Palace Anger (Celebuzz)