Twentieth Season of 'Top Model' Will Have Male Models, Shirtlessness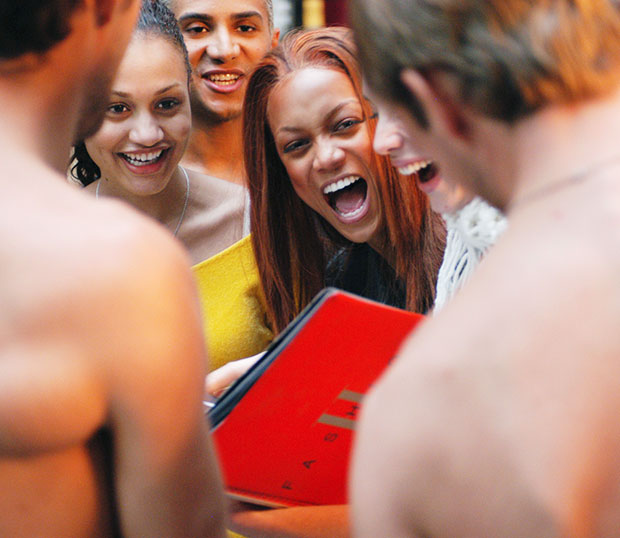 In the 19 seasons… sorry, Tyra, cycles. During the 19 cycles of America's Next Top Model, hostess, producer, creator, and all-around camp manifestation Tyra Banks has done everything to try to keep it fresh. She's featured big girls, short girls, college girls, British girls, and, currently, college girls. As it turns out, that formula isn't working so well anymore — the catwalk drama is currently limping along with just over 1 million viewers on Friday nights. Ouch.
But the series might have determined a ratings solution: On Tuesday, the series was renewed for season — god, okay, cycle — 20 today and Tyra has introduced another gimmick to get us to watch again. And it has nothing to do with girls. According to a press release from the CW, this cycle will (finally!) allow men to compete alongside the women. How many make it to the final round, we still have yet to see, but we're hoping that there will be a casting episode during which lots of hot, hard-bodied young men step in front of Tyra and whip off their shirts while the Jays (are they still around?) or whatever gay monkeys she has at her disposal all swoon and fan themselves with their index cards. This is something we would really like to watch. After all, it can't be worse than Bravo's defunct male modeling show, Manhunt: The Search for Something with Something Something Flat Abs Underwear Shots.
The pectacular edition of the show will hit the CW at an undisclosed date this summer cycle… I mean season. Sorry guys.
Follow Brian Moylan on Twitter @BrianJMoylan
[Photo Credit: CW]
More:
'America's Next Top Model': Why it Needs Nigel
Meet the Sexy New Judges on 'America's Next Top Model'