'Two and a Half Men' Creator Chuck Lorre to Publish Book of Show's Hidden Rants
While they only appear for a split-second after the end credits of shows like Two and a Half Men, The Big Bang Theory, and Mike & Molly, writer/producer Chuck Lorre's "vanity cards" are nearly as (in)famous as his sitcom creations. They're a blink-and-you'll-miss-them dose of unrestrained Lorre, ranging from musings on existential crises, vehement rants against anyone in Lorre's crosshairs, or simple exercises in screenwriting, as demonstrated by a vanity card that ran after a recent episode of Men: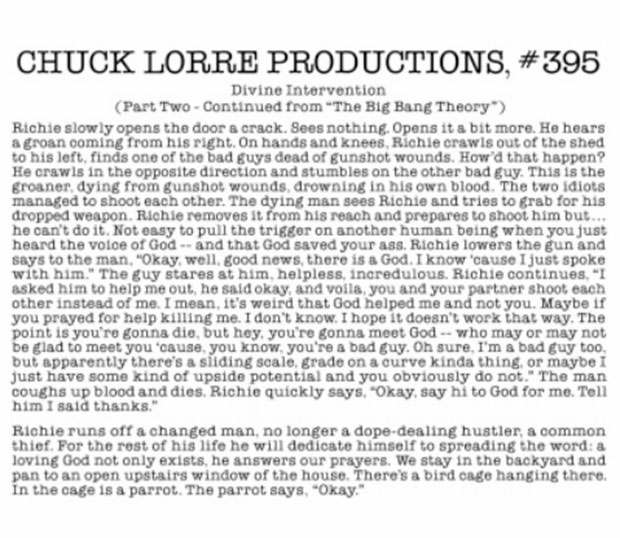 Capitalizing on Lorre's unique voice, Simon & Schuster has published a hardcover compilation of the vanity cards, a 300 card collection titled What Doesn't Kill Us Makes Us Bitter. Enshrining the wild off-topic writings of a TV comedy titan may seem frivolous, but the manic coffee table book comes with an added kicker: Variety reports that proceeds from the book will benefit Lorre's Dharma-Grace Foundation, a group that supports the Venice Family Clinic and similar health care charities.
The book faithfully preserves Lorre's bite-size wisdom, sprucing it up with new graphics that should enhance the already-colorful prose. There's only one thing a book version of the Vanity Cards may not be able to produce: the audience/creator interaction. Lorre has never backed away with a fight, often using the vanity cards to rant against CBS, the network that plays host to his successful shows. Take this card from September 2009: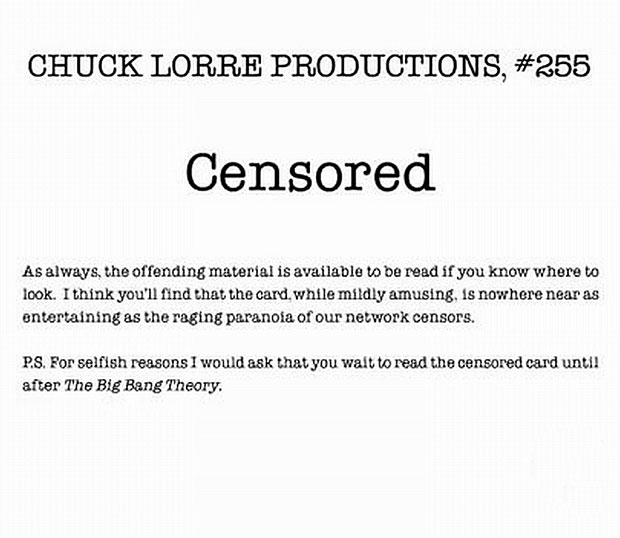 The uncensored version was featured on Lorre's website for curious viewers:
In film and television there exists a rule that all phone numbers spoken in dialogue or seen on the screen begin with the fake prefix 555. The reason for this rule is that somewhere along the line idiots began calling the phone numbers used on TV shows and movies. This resulted in production companies and networks being sued by the unhappy people who were harassed by the prank calls from the aforementioned idiots. All of which means that whether you're trying to enjoy a humble sitcom or a hundred million dollar action movie, every phone number will begin with the hateful, illusion-wrecking prefix, 555. In tonight's episode of Two and a Half Men we tried to get around this dilemma. The phone number Charlie rattles off in the first scene is actually one number short of a real number. Then, later in the scene, he discusses a memory trick which involves replacing numbers with letters in order to remember them. If you check your phone, you'll see the letters we used, OXOFEMPAL, or 696-336-725, is again one number short of being an actual working number, and JKLPUZO is the broadcast acceptable 555-7896. A lot of work, not to mention endless negotiations with our CBS censor, was necessary to come up with these numbers. So, to all the idiots out there, let me just say, 555-382-5968.
What Doesn't Kill Us Makes Us Bitter may not capture the innovative workaround that have turned Lorre's vanity cards into the reason to stick around past Two and a Half Men's end credits, but there's no doubt it has the edge. The book is currently available in bookstores and online outlets.
[Photo Credit: Chuck Lorre Productions]
Follow Matt Patches on Twitter @misterpatches
More:
'Two and a Half Men': Miley Cyrus' Bizarre 22-Minute Monologue
Miley Cyrus Drops in on Ashton Kutcher on 'Two and a Half Men' — PHOTOS
Chuck Lorre Gets Dramatic in New Warner Brothers Deal
From Our Partners:

Tom Cruise's $50m Defamation Suit Over Suri Abandonment Claim: What Are His Chances of Winning? (INSIDE STORY)
(Celebuzz)

Levi Johnston Marries Sunny Ogelsby in Alaska
(Celebuzz)