'Two and a Half Men' Got 27 and a Half Million Viewers Last Night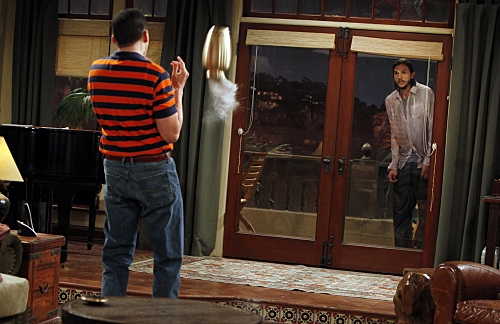 Think about how many people you know. Now think about how many of them you didn't see last night. It's probably because they were home. Watching Two and a Half Men. And chances are, you were too. We can assume this because last night's episode of Two and a Half Men, the Charlie Sheen-less season premiere, garnered 27.7 million viewers.
The hype of Ashton Kutcher's arrival onto the series, teamed with the reveal of Sheen's character Charlie Harper's death, was what drew in the colossal sum of viewers. Whether or not 27.7 million people were satisfied enough with these results to tune in again next week is yet unknown. Although our Ashton Kutcher Scorecard might be of some indication.
Two and a Half Men's season premiere joins the ranks of some of the great television moments in history. Not counting Super Bowls (because they're all on this list…every single damn one of 'em), some of the most watched events include Oprah's last telecast, Bob Hope's Christmas Special, and the final installment of Roots.
As far as sitcoms go, the finales of Cheers, Seinfeld and Friends each had some of the most impressive series finales in ratings history.
Topping each of these, unsurprisingly, was the cliffhanger-closer episode of Dallas nicknamed "Who Shot J.R.?"
But in what represents the unbeatable timelessness of the series, the heartbreaking series finale of M*A*S*H maintains its status as the highest rated broadcast in the history of television.
Two and a Half Men's current season promises more surprises. We're still not certain how Ashton Kutcher will be utilized. We don't know how big a role Judy Greer will play. And as for Angus T. Jones… will we be seeing more of him? Seriously, where was he all episode?
Source: Vulture