'Two and a Half Men': The Michael Bolton Vibrator & 3 More Disturbing Jokes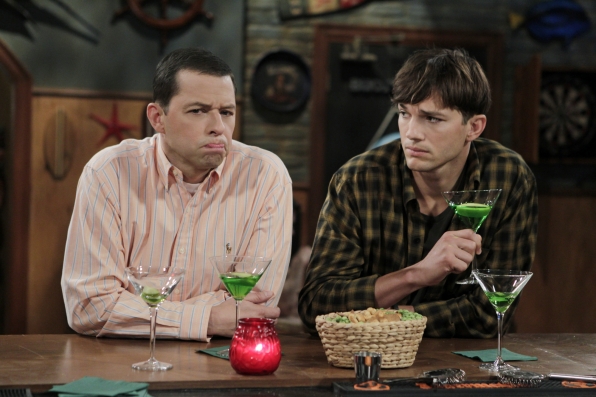 Against all odds, Two and a Half Men has returned for a 10th season, with Emmy-winner Jon Cryer, Ashton Kutcher, and the occasional appearance by "the half' Angus T. Jones delivering gross out humor that's solidified the sitcom as one of the safest raunchy shows in modern TV history.
What's in store for this season? If the Season 10 premiere is any indication, more of the same (and yet, in true Two and a Half Men, the completely unexpected). Here are the jokes that blew my mind in tonight's first episode, "I Changed My Mind About the Milk":
"Now he's a fuzzball catching the clap from a whore in Tijuana"
In the last episode of Season 9, Jake voluntarily shipped himself off to the military. Now his role on the show has been reduced to a Skype phone call and jokes about killing terrorists. Thankfully, Berta picks up his slack with an off-color crack about how he'll inevitably contract a venereal disease while randomly sleeping with women wherever he's stationed. If you were unaware, that's what members of the military do in their spare time.
"I have a vibrator named Michael Bolton!"
After failing to woo his longtime girlfriend Zoey with a production of a proposal (fireworks! guitar! Michael Bolton!), Walden is dismissed with a tearful "no." When he returns home with Michael Bolton (played by actual Michael Bolton) everyone is both sympathetic for the lonesome billionaire and in awe of Michael Bolton. Alan's mother Evelyn, always the subtle one, drops the above line directly to the "When a Man Loves a Woman" singer. Even Bolton looks uncomfortable.
"Peeing with morning wood, that's complicated."
In a rash decision, Walden and Alan head to Zooey's house to confront Walden's dismissive ex to find out why he rejected her. It seems there's another man involved — at some point off-season, Zooey reconnected with another man from her past. "It's complicated," she says. This sends drunken Walden into a rage of genitalia-related metaphors. Per usual.
"You'd be having sex more like a woman would."
Distraught from the complete destruction of his relationship (that we spent nearly half of last season following!), Walden and Alan turn to their Two and a Half Men go to activity: appletini drinking. Drunkenly waxing on his romantic future, Walden bluntly suggests that maybe he should forsake women. Maybe he and Alan should just "go gay." Alan agrees, and the two imagine what the future could hold for their homosexual partership. Steaks on the grill, football (or Project Runway if the game isn't on), hyphenated last names — the perfect life. Then the idea of sex comes up. Alan imagines they'd both get to do it "like guys do," but Walden corrects him with the above line. None of it really makes sense, but hey, the guys are drunk.
[Photo Credit: CBS]
Follow Matt Patches on Twitter @misterpatches
More:
Miley Cyrus Drops in on Ashton Kutcher on 'Two and a Half Men' — PHOTOS
Network Swap: What if 'Two and a Half Men' Were On TLC?