'Two and a Half Men': Will Ashton Return for Another Season?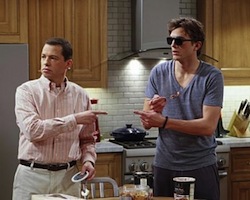 Thanks to Charlie Sheen's 2011 meltdown, Two and a Half Men was nearly forced to close shop. Ashton Kutcher managed to keep the show alive by stepping into the lead role, but now that he's experiencing some personal problems of his own, is he ready to take a break from the limelight?
During a panel at PaleyFest 2012, Kutcher indicated that he isn't letting his divorce drama with Demi Moore, interfere with his work. When asked if he'd be up for another reason, he said, "I'm adoring the time I'm having," adding, "I haven't heard from the powers that be yet."
While co-creator Chuck Lorre joked that he's "not the power," who decides the show's fate, he said that there will probably be another season. "It's unusual if they cancel a show that's in the top 10. I think there's hope," he said. And you can bet that Kutcher will be a part of it. "I don't see any reason to continue without him," Lorre added. "He's a delight, he's a really nice man and he's a really easy-going guy, he's very relaxed and very professional. He shows up and he's ready to work, he's prepared and he brings it."
He isn't the only one happy to have Kutcher on set. When the name of a certain tiger blood enthusiast came up, co-creator Lee Aronsohn said that in the past season, "The biggest change is we don't have to check TMZ in the morning to find out if we need to go to work."
Source: E!