Two Lawsuits and a Layoff!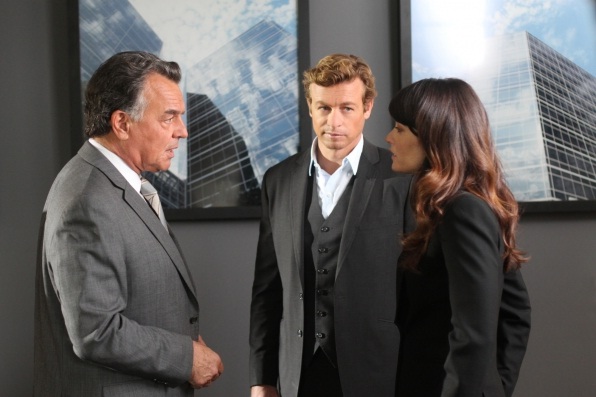 Has the behind-the-scenes world of TV seemed unusually fraught with legal problems lately? Following the latest updates on actress Nicolette Sheridan's lawsuit against her former series Desperate Housewives, as well as accusations made by Hope Solo against Dancing with the Stars partner Maksim Chmerkovskiy, two new stories have broken that illustrate some of the more tumultuous crews and productions within today's television industry.
The CBS crime procedural The Mentalist is the subject of one such story. The Hollywood Reporter reveals that background player Shanelle Howard is suing Warner Bros. (which produces the program) and the casting agency GEP Cencast (which handles background performers) for gradually diminishing her role on the show, to the eventual point of nonexistence, following her complaints of sexual harassment (both verbal and physical) from fellow The Mentalist employee Lonnie Moore. Howard alleges that Moore persistently accosted her with extremely offensive comments, such as, "It's just sex; stop being so uptight and give me some." Additionally, Howard is also accusing Moore of harassing her physically; her official complaint reads, "There were many times when Moore caught plaintiff off guard, he was thus able to 'cop a feel' before plaintiff could push him away." After Howard reported Moore's conduct to her superiors in October, she affirms that other coworkers began treating her with contempt. Furthermore, Howard states that the producers began hiring her less and less, with her average days per week of working on the show dropping from five to two, until she eventually was no longer called in whatsoever, nor was she granted other working opportunities by GEP.
The channel A&E and actor/producer Ice-T are the subjects of a separate lawsuit, presently. Deadline reports that both parties are being sued for allegedly stealing the idea behind the 2010 documentary miniseries The Peacemaker. The plaintiff is Roy Colbert, who claims to have brought an identical idea for a program he called Banging Peace to the network and Ice-T (who was executive producer on The Peacemaker) in 2008, and to have formed an implied contract with the parties in question that any project developed as a result of the conversations would warrant compensation for and involvement of Colbert. You can read the lawsuit, which was filed on Friday, here.
Although not exactly a bit of legal drama, network layoffs always result in a good deal of feather rustling. Deadline reports that NBC has fired twenty members of the staff of The Tonight Show. Additionally, host Jay Leno is said to have taken a large pay cut in the interests of helping to maintain as many jobs as possible on the program.
[Photo Credit: CBS]
More:
CBS Drops Its Lawsuit Against Glass House
'Gay' Spongebob Squarepants is 'Real Threat to Ukrainian Children'