Tyler the Creator Directs Traffic on 'Loiter Squad' — EXCLUSIVE VIDEO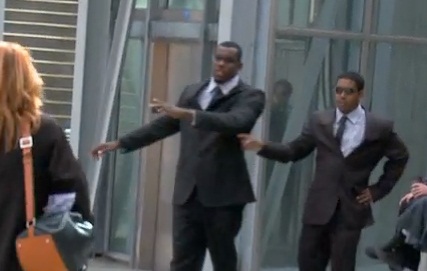 Surprisingly, a band with a name like Odd Future Wolf Gang Kill Them All isn't opposed to being a little bit absurd from time to time. The alternative hip-hop group stars on Loiter Squad, a live action series on Cartoon Network's late night Adult Swim. The 15 minute program features the band members, led by rapper/producer Tyler the Creator, delivering comedy sketches and candid camera pranks in Los Angeles.
Below is a clip from Loiter Squad, in which OFWGKTA dons the roles of street security, escorting innocent passersby through inconvenient and unnecessary routes on their walks in the park. The phrase "guilty pleasure" has never been more suitable.
Loiter Squad airs Sunday nights at 11:30 PM ET/PT on Adult Swim.
More
Childrens Hospital Renewed by Adult Swim
Childrens Hospital's Long-Awaited 'Party Down' Reunion is Pretty Brief