Tyra Banks on 'Top Model' Firings: 'Show Needs a New Boost'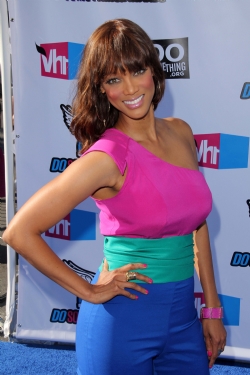 Since photo shoot manager Jay Manuel, runway diva coach Miss J. Alexander, and fashion photographer Nigel Barker were fired from America's Next Top Model last week, we haven't been smiling with our mouths or our eyes. Though it's hard to imagine what the next season sorry, cycle will look like without them, on Tuesday Tyra Banks tried to assure viewers that their dismissal is for the best.
"We reached a point, where were feel the show needs a new boost," she told Access Hollywood at the 2012 Matrix Awards in New York. "It's very difficult because I love my guys, they're my guys … They've been there since the beginning of the show." Banks added that there's a chance we might see them on ANTM again. "My partner Ken Mok and I have projects we're developing, and we're a family, it doesn't end," she said.
Banks also bemoaned their departure on her Facebook page, writing, "To my Nigel Barker, Miss J, and Mr Jay: Thank you for all of our years together on America's Next Top Model! Working with you is always an absolute pleasure. Excited for what the future holds for us. XOXO, TyTy." Hopefully one of them will open up about their real thoughts on "TyTy" soon, because the only good thing to come out of this is the potential for bitchy backstage gossip.
More:
Tyra Banks Fires Almost Everyone from 'Top Model'
'America's Next Top Model': Why it Needs Nigel
Do We Really Need The Reality Results Show?