20 Reasons 'Undeclared' Is The Best TV Show You Never Watched
Like a lot of other people, Freaks and Geeks is one of my favorite TV shows. I'm always in the mood for it and will forever have a crush on Lindsay Weir. Whenever I re-watch the series, I always feel sad that it was cut short. Imagine if the series went to college, I think. Well, in 2001, Judd Apatow basically made Freaks and Geeks in college, called Undeclared, and it's the greatest thing to repeatedly binge-watch on Netflix. It's also tragically short, but, just like F & G, its few episodes are incredible.The Cast:1. Seth Rogen

Before taking over the world in movies like Neighbors and Knocked Up and causing international scandals with films like The Interview, Seth Rogen was on Freaks and Geeks and followed his lovable role on that show with his role as Ron here. Ron is more or less the same as every other Seth Rogen character, but probably a bit more adorable. 


2. Jay Baruchel
FOX
Baruchel stole our hearts on this show as Steven Karp, and he only continued to make us love him more afterwards as the voice of Hiccup in the How to Train Your Dragon movies. In fact, this is the TV series that helped introduce Rogen and Baruchel, establishing their friendship that was the entire plot of This Is The End.
3. Charlie Hunnam
Looking like your college fantasy. Before Sons of Anarchy, and long before those rumors that he would star in Fifty Shades of Grey, this hottie was making us swoon on Undeclared as main character Steven's ex-pat roommate who was unsurprisingly skilled with the ladies
4. Jason Segel
If you thought Jason Segel's hilarious turn as a heartbroken boyfriend in Forgetting Sarah Marshall was good, you need to watch his Freaks and Geeks follow-up on this show.
The Guest Stars:
5. Amy Poehler
FOX
Before running the town of Pawnee (and possibly the country?), Amy Poehler was the head RA on Undeclared who struck up a sexual relationship with Steven's newly single father. She also tried to hook up with Lloyd (Hunnam) and took a firm stance on slipping and sliding.
6. Kevin Hart
FOX
It's no surprise that the Comedic Genius is one of the funniest guest stars on the show, but it's still a ton of fun to watch. "Is she fine?" he asks in the above photo as he justifies his ditching Christian missionary life because…well, she's fine. Isn't she?
7. Adam Sandler
Adam Sandler rolls through, playing himself, sleeping with college students and refusing to acknowledge how drastically his films vary in quality.
8. Will Ferrell
Will Ferrell shows up on Undeclared as a speed-addicted genius who writes papers for the cast to varying degrees of success. What's unquestionably successful though is the actor's hilarious appearance.
9. Ben Stiller
Stiller shows up as Segel's mom's ex — or something. It doesn't really matter why he's here. Just listen to what he has to say about what "RELATIONSHIP" spells out, and you'll see why he makes the show great.
10. Jenna Fischer
Before she was Pam on The Office, Fischer played a sorority girl who was too cool/old to come to the guys' party (until later on in the series where she has a one night stand with Lloyd… atta girl).
11. Martin Starr
getsomethingtoeat.tumblr.com
Freaks and Geeks alum, who you may remember as Bill Haverchuck or the Bionic Woman, appears as Steven's dweeby high school friend (something he should be painfully familiar with). Starr, who went on to have lead roles in Party Down and Silicon Valley, kills it in the role and is so nice to see return to the Apatow-universe.
12. Samm Levine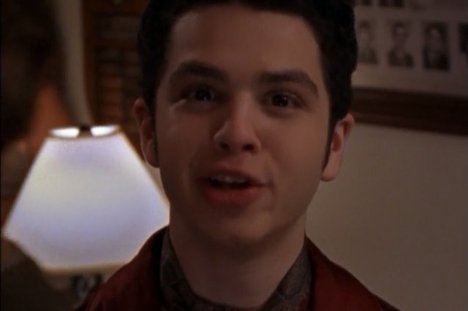 FOX
The Freaks and Geeks star reunited with the rest of the crew for two episodes — "Rush and Pledge" and "Hell Week" — where he played the head of a fraternity that Steven pledges, then quits, then starts a war with. We'll now always think of Levine whenever we've eaten too many pickles.
13. Natasha Melnick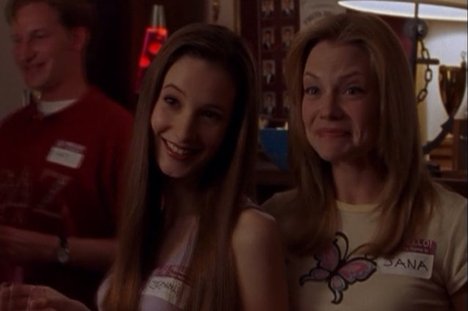 FOX
As if it weren't exciting enough to spot Sam Weir's best friends from Freaks and Geeks on Undeclared, Cindy Sanders shows up! The girl of Sam's dreams plays the head Little Sister for Levine's fraternity in "Rush and Pledge" who ends up at odds with Lizzy in the second Greek-themed episode, "Hell Week."
Because of the Plots:
14. There are entire episodes built around games of Truth or Dare in order to find female affection.
getsomethingtoeat.tumblr.com
Just like real life.
15. The characters are geeky, therefore they understand that The X-Files is sacred.
16. There are more #College moments than you can handle.
taylortownsend.tumblr.com
17. There was such real love between Seth Rogen and Freaks and Geeks alum Busy Philipps.
18. There was a scene where Seth Rogen and Charlie Hunnam danced like this to "Big Pimpin'"
worldscitizen.tumblr.com
19. It just totally captures every aspect of your awkward post-adolescent life.
20. There is an entire episode featuring a roommate fight over listening to CDs too loudly.
Not only is it ridiculously #college, it features some great late 90s/early 2000s music.
But probably the best part of the show is still watching Segel deal with heartbreak.
klstrother.tumblr.com