'Under the Dome' Premiere Recap: Psychotic Boyfriends, Dead Bodies, and One Unfortunate Cow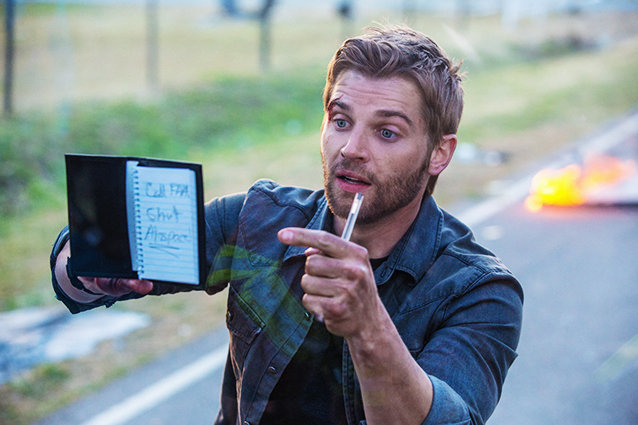 Get ready, because this summer's most captivating new series is going to trap your attention and instantly become your new favorite obsession. One of Hollywood's biggest directors, Steven Spielberg, is pairing with literary giant Stephen King for an out of this world CBS event. Under The Dome is a whirlwind of drama, intrigue, and jaw-dropping mysteries that is unlike anything else on TV.
We've collected all the details from the pilot to help catch you up on this sci-fi phenomenon and point out things you may have missed. However, since this show has a multitude of diabolical characters, twists, turns, and head-scratching events, it would be easy to get lost in a vast sea of paragraphs. (And come on, ain't nobody got time for that!) So we at Hollywood.com present you with an effecient yet effective alternative: recapping Under the Dome in under 500 words.
Is it ambitious? Heck yes! But if our cut-to-the-chase recap is exactly what the TV fan-on-the-go needs to keep up with this fantastic show, then we're more than happy to help. Read on for all the spoilers and secrets from this week's Under the Dome series premiere.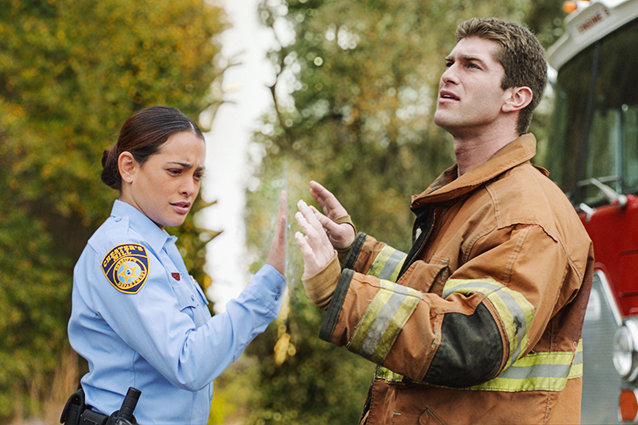 Who's Who? Welcome to the itty-bitty neighborhood of Chester's Mill, a quaint place that features small-town charm and a variety of citizens — some who couldn't hurt a fly and others who are bats**t crazy. We first meet Dale "Barbie" Barbara, a handsome yet mysterious former army captain who seems too good to be true, despite the fact that we saw him burying a dead body. Yikes! Sheriff "Duke" Perkins is the town's fearless leader who watches over these small streets along with loyal Deputy Linda.
Big Jim Rennie is a smarmy politician and used car salesman who seems a little too excited when all hell breaks loose in town. The crazy doesn't fall too far from the tree with his son, Junior Rennie. Junior has the hots for a pretty little lady named Angie McAllister (we actually meet them both mid-coitus, ooh la la!) and he tells her that he's going to drop out of college to be with her. She promptly tells him no, he slaps her, and we realize that this is one sick teen that we sure as hell don't want to mess with.
Julia Shumway is the town's newest newspaper reporter, and someone who clearly takes her job way too seriously in a town that doesn't even have its own Denny's. Nonetheless, she gets a tip that the town is stocking up on way too much propane and we begin to get curious. We also meet Angie's brother, Joe McCallister, and Carolyn and Alice (a lesbian couple passing through from L.A.) and their troubled daughter Norrie.
Dropping the Dome: With all of the firefighters, most of the police staff, and a handful of citizens over in the next county for the big parade day, Chester's Mill is pretty much down to their basics. And then… it drops. Birds fall from the sky from broken necks, cows are chopped in half and planes and trucks smash into invisible barriers causing mind blowing and breathtaking explosions.
No one knows what it is, no one knows why it's there, but here's what we do know: When you touch the wall of the dome, it zaps you… the first time. But any time after that, you're fine. No sounds can get in or out of the dome. The higher-ups at the military are very interested in figuring out what is going on, showing up in HazMat suits to investigate. The dome affects some teens in a super strange way — both Norrie and Joe go into a full-blown seizure, mumbling, "The stars are falling in lines."
Out Comes the Crazy: The dome is also not a fan of certain electronic devices. For example, poor Sheriff Duke has a pacemaker, and after creeping closer to the dome, the little device shoots right out of his chest. We're not 100 percent sure, but he looks all kinds of dead at the end of the episode. Junior becomes absolutely obsessed with Angie and now that the town is in disarray, he promptly kidnaps her and locks her away in his family's fallout shelter. Ready for the biggest shocker of them all? The man that Barbie was burying in the beginning of the episode is actually Julia's doctor husband, but she doesn't know he's dead yet. Yikes!
Has Under the Dome trapped your attention? Shout out your speculations and sci-fi theories in the comments below!
Follow Leanne on Twitter @LeanneAguilera| Follow Hollywood.com on Twitter @hollywood_com
More:
'Under The Dome' Sneak Peek: Get Trapped In Stephen King's World In This Brand New Poster
'Under The Dome' Casts 'Bad' Guy Dean Norris
'Under The Dome' Nabs Twilight Star: 5 Reasons The Series Is One To Watch
---
From Our Partners:


What Happened to 33 Child Stars (Celebuzz)


40 Most Revealing See-Through Red Carpet Looks (Vh1)