'Up All Night' Pilot Review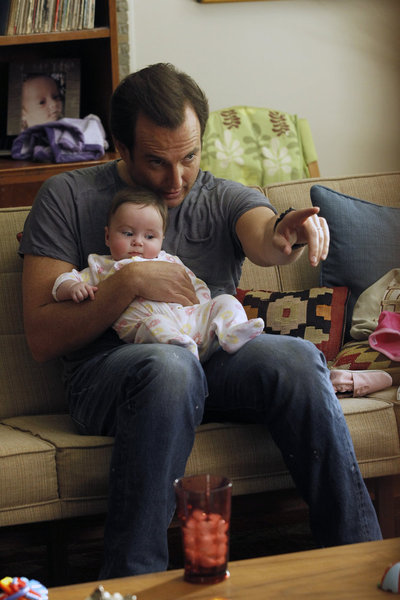 When I first heard that Will Arnett, Christina Applegate and Maya Rudolph were returning to television together on one single camera sitcom, I have to admit, I got a bit excited. This had to be a surefire homerun. Upon watching the pilot of Up All Night, what I can say is that while it's no homerun, it's got some serious potential.
We find happy couple Reagan and Chris (Applegate and Arnett) with an accidental bundle of joy, throwing them from an adult existence that's more wrapped up in Jager-bombs and 15-hour work days than it is in early nights and baby binkies. Arnett plays stay-at-home dad to Applegate's high-powered working mom. It's a simple concept that most new parents struggle with, but Arnett and Applegate traverse these trials with great timing and a twinge of some serious potty mouth. 
The series' techniques aren't all that revolutionary, but it's hard not to giggle at scenes of the new parents cooing over their baby with comments like, "God she's so (bleep) beautiful." The simple juxtaposition of sweetness and crassness just works and Applegate's adorable, matter-of-fact delivery and Arnett's new-daddy version of G.O.B. Bluth are a comedy match made in heaven. Not to mention, they actually have chemistry, but not a new couple sort of chemistry — it's chemistry that only a couple who's been together for 7 years can really enjoy. They're completely lovable and we're immediately rooting for them, but without some other killer supporting characters, I'm not sure they'd be able to sustain an entire series.
That's where Rudolph comes in. As Reagan's boss, Ava, Rudolph delivers that crazy lady schtick we fell in love with back on SNL and it works because they've given her a role as an Oprah/Ellen/Tyra Banks hybrid with a show that finds Ava with birds on her head and Nick Cannon as the obnoxious Andy Richter to her Conan. It's over-the-top, it's kind of "insen" (or insane in Ava-speak), but it's a welcome contrast to Reagan's new home life. Originally, Ava was a music mogul and Reagan her handy lapdog, but thanks to some last-minute changes, we now find her as the Tyra Banks reincarnate, who's a bit ridiculous but who's ultimately a kind, understanding person. She's not a total cartoon. In my mind, that single change saved this show.
As long as they can keep the workplace antics spicy and outrageous, there will be enough of a dynamic to keep the show going. And I really hope they pull it off, because seeing Rudolph, Applegate and Arnett on television together is just too wonderful a notion.
Did you miss Up All Night's soft premiere last night? Watch the pilot here or tune in next Wednesday, Sept. 21 at 8:30 p.m. ET on NBC.