Update: HBO Cancels 'Luck,' Remaining Episodes Will Air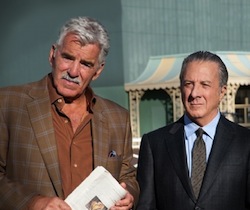 Update: An HBO spokesperson tells Hollywood.com that the remaining episodes from Luck's inaugural season will air as scheduled on Sunday nights. Episode 8 and Episode 9 will be the last available episodes of the series.
Earlier: Well, that was fast. Just a few hours after HBO responded to the scandal over three horses dying behind the scenes of Luck by halting all filming involving animals, the network announced it's scrapping the entire series.
Two horses died while filming the first season of the race track drama, and today it was reported that a third horse died while shooting the second season. Of course, this outraged PETA and other animal rights groups. Initially, the network said it wouldn't film horses until the American Humane Association completed its inquiry into conditions on set, adding, "Production will continue with other scenes." However, now the network has decided to stop production altogether.
HBO said in a statement, "We maintained the highest safety standards throughout production, higher in fact than any protocols existing in horseracing anywhere with many fewer incidents than occur in racing or than befall horses normally in barns at night or pastures." Two horses had to be euthanized last year after they stumbled during racing scenes, sustaining inoperable fractures. On Tuesday, a horse broke its neck and died after rearing up and falling backwards. The network concluded, "accidents unfortunately happen and it is impossible to guarantee they won't in the future. Accordingly, we have reached this difficult decision." Luck was already struggling in the ratings, and apparently HBO didn't feel it was successful enough to warrant doing battle over animal abuse allegations.
Source: The Wrap