'Utopia' Will Truly Be David Fincher's Show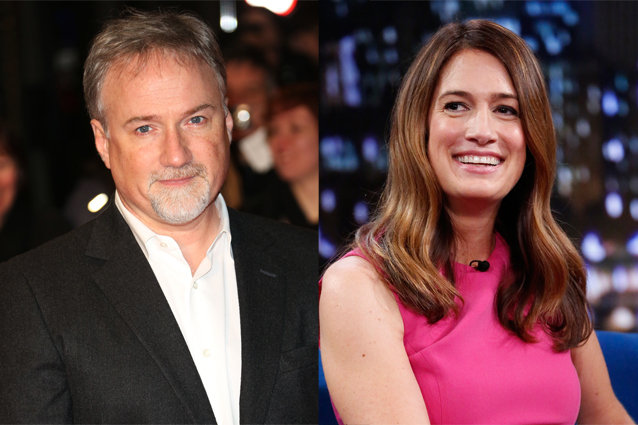 WENN/Getty Images
Once you've finished the new season of House of Cards, David Fincher has your next television addiction lined up. The director has teamed up with Gone Girl author Gillian Flynn for a remake of the British show Utopia for HBO. Fincher will direct and produce the series, the first of several projects that he will develop for the network, and Flynn has been tapped to write for the show. The show revolves around a group of people who are hardcore fans of an iconic graphic novel and discover that the author has secretly written a sequel, only to find out that the manuscript is much more than just a book. They then find themselves in the middle of a real-life thriller as some people will stop at nothing to get their hands on it. Utopia premiered in the UK last year to positive reviews, despite some concerns about the graphic violence it features, and its second season is currently in production.
Of course, the news that a beloved British series will be getting an American remake is bound to upset some fans, but the project seems to be perfect for both Fincher and HBO. Fans who are concerned that the new version of Utopia will be sanitized, robbed of much of the violence and darkness that helped characterize the series, should have nothing to worry about, as the network has never shied away from violence – as many Game of Thrones fans can attest. Audiences can still expect a show that is just as intensely dark as the original, and having Fincher on board should also help to ensure that the tone carries over. 
As a filmmaker, Fincher specializes in psychological dramas and thrillers, which makes him the ideal director to tackle this project. Over the course of the show's run, the characters in Utopia find themselves in a situation where they need to outsmart and out-run each other and the people who are hunting them in order to protect the manuscripts and prevent the disastrous events depicted in them from coming true.
Fincher's most recent television show, House of Cards, is famous for having characters with shifting loyalties, who are looking to survive and thrive in the deadly world of politics, so it's clear that Fincher understands how to develop those basic ideas into a show with an engaging, addicting plot and compelling characters. However, despite the inevitable comparisons that the two series will need to endure, Utopia seems as if it will be better suited to Fincher's sensibilities as a director, and essentially, would be more of his show that House of Cards ever was. 
The Fight Club and Zodiac director is an important element of that show, and his direction helped House of Cards develop into the series it has become. But despite the fact that he has been praised for his work on the program, House of Cards truly belongs to its head writer and showrunner Beau Willimon, who developed the series and oversees every detail. Willimon's work has often dealt with issues of power, and how politicians and powerful people interact with each other and manipulate the rules in order to ensure that everything will work out in their best interests. At its heart, it is a political thriller, one that examines the role that power plays not only in the American government, but also in the lives of everyday people. With the exception of Peter Russo, the show doesn't really delve into the psyche of the characters to the degree that Fincher does with his cinematic heroes and villains, but rather defines them by the actions and ambitions. And while Fincher's trademark filming style has been a big part of allowing the show to effectively convey those ideas, Willimon is the driving force behind the show, and the one whose perspective best informs it. 
Utopia, on the other hand, is driven by the psychological reactions of the characters. These are people who have found themselves thrust into a situation beyond their control, and the tension and trauma that results from their new environment is just as important to the story as the plot twists and surprises. With Fincher on board, the show will be able to delve into those issues, and look at the toll that the events of the show will take on the characters, many of whom have their own secrets and agendas that they are focused on. Although the knee-jerk reaction of many Utopia fans is one of dread, having Fincher as the director and producer should be reason enough for them to have confidence in the adaptation. It is likely that many of the show's plot points or characters will change or be left out, in order to better fit the new setting, but with Fincher at the helm, the transition is likely going to result in a show that is just as addicting as the original, and just maybe, one that is better than House of Cards. 
Since Utopia is better tailored to Fincher's style, there's a good chance that it will become a show that is truly his; one that not only features similar directorial style, but also deals with the themes and conflicts that have characterized his films. With so many prominent directors making the move to television, having a show that both embodies who Fincher is as a director but also tells its own, unique story is going to be an asset to both the director and the network. It will allow Utopia to stand out from many of the other dark, apocalyptic shows that are hitting the airwaves, and with one of the best directors in the business in charge, it seems almost impossible for the the show to be anything other than excellent and immensely watchable. 
House of Cards has become something of a pop culture phenomenon since its premiere last year, but it has grown away from being Fincher's show into one that can stand on its own, thanks to Willimon. With Utopia, he has the chance to develop a series that is entirely his own, and one that will likely be just as profitable and revolutionary for HBO as House of Cards was for Netflix. It's always a risky business adapting a foreign series for American television, but this project is so perfectly suited to Fincher that it's worth getting excited over.