'Vampire Diaries' Decades Dance: Elena Chooses (Spoiler)? — PICS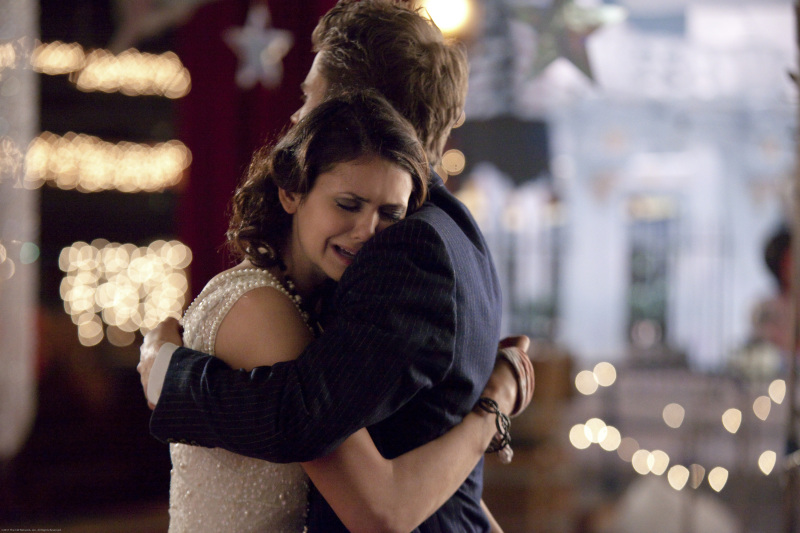 Do you ever feel so tired of waiting for Vampire Diaries to return from its nonstop cruel mini-breaks that you're afraid you might start making runs to the blood bank yourself? That's where we're at right about now. Come back to us, TVD. And while all of Bonnie's witchy magic couldn't make April 19's episode get here any faster, we do have the always delicious tease: sneak peek photos!
April 26 our Mystic Falls gang will attend another dance! Oh right, because they're still in high school. With all the network-cable level torture porn going on in recent episodes, it's easy to forget. These photos unveil a truth many Delena fans might find a little disturbing: Stefan and Elena appear to be attending the dance together, they're even holding hands and embracing. Apparently Stefan has figured that jealousy spell out — at least for now. It looks like Damon will have a reason to start breaking things again. 
But wait, there's more. Bonnie is having a grand old time with Jamie, her mother's unofficially adopted son. (Which is not weird at all. Poor Bonnie.) And finally, Tyler is back! And he's ready to jump start his romance with Caroline, with just one small snag. Klaus shows up looking like he's about to go all Saturday Night Fever on us in a white suit, which will hopefully stir up some jealousy that might actually get heated (ahem, simmered down Salvatores). 
How are you waiting out the excruciating break between episodes? Do you think Elena's ready to be with Stefan or is she just picking a side for now? Does Klaus stand a chance in the battle for Caroline's heart? Let us know in the comments!