'The Vampire Diaries' Recap: Katherine Pierce Must Die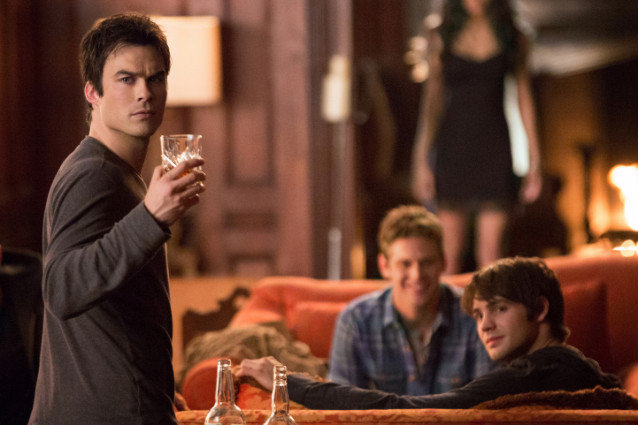 The CW
This episode focuses on the many faces of Nina Dobrev. Dobrev has portrayed two of television's most wildly different twinsies (or more realistically doppelgängsies). Elena Gilbert and everyone on the show has been dealing with the onslaught of Katherine Pierce's schemes, tricks, and violence since Season 1. 100 episodes later it looks like Katherine Pierce is no more. As part of the anniversary episode festivities there are a ton of reappearances by characters that have come and gone.
Elena
Elena is still struggling with her break-up with Damon Salvatore (Ian Somerhalder). While Caroline (Candice Accola) and Bonnie (Kat Graham) try to console her, Matt (Zach Roering) and Jeremy (Steven R. McQueen) find Damon drinking the pain away. The gang gathers for one of the most mean-spirited drinking games as they compare, and recap for the audience, all of Katherine's dirtiest deeds. It's pretty shocking to realize that as one of the most major antagonists on the series, she is responsible for most of the major deaths on the show.
Elena gets a double whammy. She finds out that Stefan (Paul Wesley) slept with Katherine and that Nadia Petrova (Olga Fonda) has kidnapped Matt. Nadia needs a traveler to save Katherine's life, and in true fashion, she betrays them to a whole mess of witches that want their blood. Elena and Stefan bond and flirt as they're bled by the group of random Czech witches. Vampires make strange bedfellows. After the witches get a bucketful they let them go which is pretty anticlimactic. However, they probably will use their blood for something major later in the season.
Stefan plays the bigger man by convincing his brother to go back to Elena because she really is good for him. Bonnie's anchor powers become a topic of discussion and Vicki Donovan (Kayla Ewell) and Alaric Saltzman (Matthew Davis) stop by to make their 100th episode appearance. Sadly, Lexi (Arielle Kebbel) didn't stop by but she is one of Damon's most vicious and gratuitously douchey murders.
Katherine
Katherine is not only dying but plagued by visions that have haunted her for her entire life. Her daughter gets ripped from her arms and Klaus (Joseph Morgan) murders her entire family that's probably enough to turn someone into a violent sociopath. Damon returns to his more evil ways by trying to kill her and settling for taunting her psychically. Damon has really been redeemed these past few episodes. He turned off his humanity after leaving his friend Enzo to endure the horrible experiments of the Augustine organization. That combined with being manipulated by Katherine for so long and those blue eyes really do make him more redeemable.
Katherine is haunted by her past mistakes and it only gets worse as Damon manipulates her mind. She revisits the first time she ever saw Stefan and realizes that the doppelganger connection might be truer than she thought. Damon uses Elena's aunt Jenna (Sara Canning) and her biological dad/uncle John Gilbert (David Anders) to taunt Katherine until Nadia breaks his neck. She shows up with a traveler to teach Katherine how to swap bodies and offers up her own body but Katherine refuses.
Stefan uses his vampire dreamwalking to help Katherine deal with some of her more torturous memories and gives them a shiny makeover. He wants to give her some peace in her last days. She dies for a second but refuses to go and literally makes her own heart beat again. Elena is standing over her newly conscious body and gives Katherine her heartfelt and sweet forgiveness. Katherine convinces her, and the audience that she's ready to die. Then grabs Elena and does the traveler spell to steal her body. The episode ends with a great callback to the season 1 finale with Katherine impersonating Elena.
The Originals Cameo
Klaus returns to Mystic Falls to remind everyone of the misguided Originals series. He teases Caroline and somehow convinces him to sleep with her. Rebekah (Claire Holt) rescues Matt gives him a wink and a smile. She also lets Tyler Lockwood (Michael Trevino) return. Elijah pops up in on of Katherine's visions.
Predictions
Tyler is going to lose it when he finds out Caroline slept with Klaus.
Katherine isn't going anywhere and will find a way to stay on the show. She may also use Elena's body to get it on with Stefan.
The Travelers are going to be the big enemy this season and someone from the past will probably have been a traveler all along.