'Veep': Did The Comedy Get Your Vote?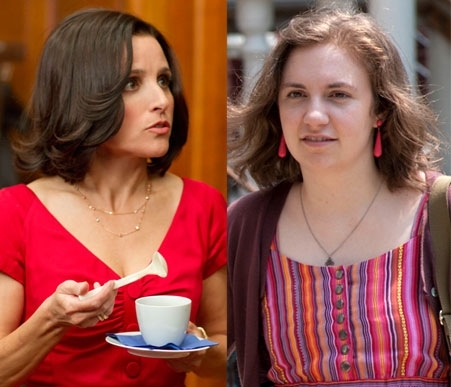 For those unfamiliar with Armando Iannucci and Simon Blackwell's bitingly funny BBC series The Thick of It or their Oscar-nominated 2009 film In the Loop, the premiere episode of their new HBO comedy Veep may have felt like something of a culture shock. The language was coarse, the politics were unabashedly politically incorrect, and the awkward moments gave Girls a run for its money last night.
Of course, for fans of Iannucci and Blackwell's unflinching, hilarious take on the world of politics, things felt like business as usual. In fact, maybe too much so. Granted, there was no Malcolm Tucker to be found screaming in anyone's face (shame, really) but a band of merry inept politicos were still on hand in full force.
This time around it's U.S. Vice President Selina Meyer (an outstanding Julia Louis-Dreyfus) leading the pack. Well, misleading the pack would be more like it. She's surrounded by the likes of the hapless, but surprisingly helpful Gary (Arrested Development's Tony Hale), the driven, deviant Dan (My Boys' Reid Scott), the salty Mike McClintock (Matt Walsh), the obnoxious pariah Jonah (newcomer Timothy Simons) and her understandably stressed Chief of Staff Amy (My Girl's Anna Chlumsky.)
Taking the anti-series premiere approach, Veep thrust viewers into the day in the life of Selina and her dysfunctional, foul-mouthed team with no formal introduction. This particular day happened to include the unpoised Selina ticking off the plastics industry, forgetting to sign a card for a recently deceased sexually harassing Senator, and making a "retard" joke during a speech that went terribly awry. The West Wing, this is not.
While there's undoubtedly some shadows of truth to what it's like behind closed doors in Washington (or ajar doors where complaints like "I need a sh**" are heard terribly out of context) Dreyfus' Selina comes off more like the R-rated Michael Scott of the White House than an insightful swipe at politics. That's not to say Veep's exaggerated take down of Washington didn't have its share of laughs.
The talented Chlumsky (more or less reprising her character from In The Loop) trading barbs with Simons (more or less taking over the part of Zach Woods' annoying Chad, so much so I expected him to ask if she could smell bisque at any moment) made for a hilariously cringe-worthy dynamic, Hale's yes-man enthusiasm resulted in some subtly great physical comedy, and Louis-Dreyfus' unflinching delivery of lines like "There aren't enough people in here to fill a f***ing canoe" all helped propel Veep to becoming a prime candidate for Sunday's already packed TV lineup.
While Iannucci and Blackwell didn't give the pilot episode of Veep a killer, laugh-out-loud line in the same vein of In The Loop (I kept waiting for a "lemon difficult"-level zinger) that's not to say it didn't have some gems that got funnier when they crept up on your later. Namely, this interaction:
"What if Tom Hanks dies?"
"What a dark thought!"
For newcomers Veep will, hopefully, become a series that grows on them thanks to its deliciously twisted office dynamics and stellar performances, lead by an Emmy-bound Dreyfus. For those coming in as In The Loop and The Thick of It enthusiasts, the hope that the show will go above and beyond what we've seen before. Which is some pretty f***ed up stuff.
What did you think of Veep? Did you go into the series as a fan or a newbie? Were you put off by it or get a kick out of the no-holds-barred banter? Which character did you love to cringe at the most? Did Julia Louis-Dreyfus' line that glasses are "a wheelchair for the eye" remind you a little bit of something out of Seinfeld, too? Will you tune in again next week or will Veep not make the cut for Sunday night's jam-packed schedule? Sound off in the comments section!
[Photo credit: HBO]
More:
Veep Star Anna Chlumsky Talks Hollywood, Humor, HBO
HBO's Veep Teasers: Hail to the Seinfeld and My Girl Alums!
HBO For Free? Pay Network Offers Girls and Veep to Non-Subscribers