'Veep' Season 1 Finale: There's No Crying in Politics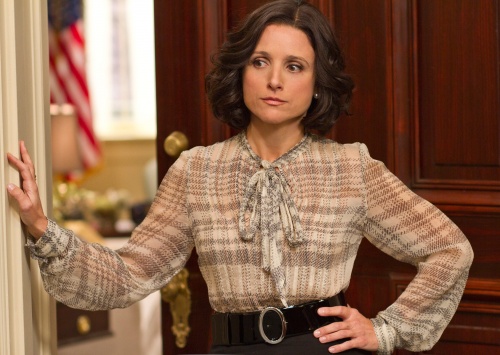 During the Season 1 finale of HBO's biting comedy Veep, the continually free falling Vice President Selina Meyer (a continually great Julia Louis-Dreyfus) joked that "not great, admittedly" would be the title of her memoir. Sorry, her "f***ing memoir." While the episode was admittedly, not great either (at least not in comparison to the knockouts like "Frozen Yoghurt" and "Baseball") it's still going to be a long, f***ing miserable summer without the Veep and her band of not-so-merry misfits. 
Taking the show on the road to Cleveland, the ever-so-determined Dan tried to set up an endorsement for Congressman Furlong's run for governor. Only, as the particularly nasty Congressman Furlong so eloquently put it, Selina is both "a turd in a hot tub" and "toxic at the box office." When Selina meets face-to-face with Furlong, the rejection proves to be too much. Between the miscarriage and her split from Ted and her time away from her daughter and her political leprosy, Selina finally let it all out. Not with the usual curse-riddled tirade, rather with the release of some long-gestating tears. ("I'm sorry about your tears, they suck," Gary hilariously comforted his boss.) 
Mike sees a golden opportunity to remedy Selina's political toxicity by producing more tears when the Veep sits down for a televised interview. The plan works, but as is the case with this gang, it all falls apart spectacularly. Dan convinces Congressman Furlong to accept the endorsement, only to have that backfire when he gets a promotion and almost-immediate demotion, and Selina cries yet again, this time during a speech, with the press later getting wind that the interview tears were manufactured. 
While VP Meyer's political future was still left hanging in the balance (not a finale cliffhanger per se) Veep left us on the same extremely dark and incredibly cynical note from the pilot. Since Veep relies less heavily on the inner workings of the political system from the inside in the way that Armando Iannucci's The Thick Of It and In The Loop did, the show (take the Veep out of Washington and put her in any other industry and you'd likely garner the same results) it's still some of the most deliciously mean-spirited fun on television thanks, primarily, to those stinging zingers they hurl so well. ("I know how to give a motherf***ing speech, don't patronize me with your no-jaw" was my personal favorite from last night's finale.) 
The show is going to have to continue to shake things up in Season 2 to keep things moving, though, of course, not in its salty language or scornful outlook on the world. And hopefully not it's Sunday night slot either, as it's fitting that Veep airs before Girls. The woes of those cynical twentysomethings seem even more funny and trivial in the light of the even more cynical grown-up world. Julia Louis-Dreyfus gave such a layered, flat-out hilarious performance all season, there's no doubt she can bring the difficult balance of bitter and vulnerable back for Season 2. No f***ing doubt about it. 
What did you think of the Veep finale: anticlimactic or fitting for the tone of the entire season? Will Selina actually get better at her job in Season 2 or would that simply render the show ineffective? Sound off in the comments section, and we'll CC you next season. 
[Photo credit: HBO]