'Veep' Season 2 Finale: Hey, Something Is Actually Going to Happen in Season 3!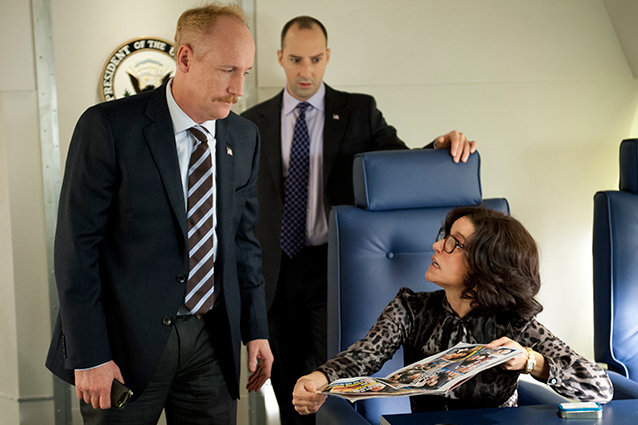 Perhaps it was wrong of me to jump to any sort of conclusions about Veep after only two brief seasons, but I had written off the HBO series as the sort of for-the-jokes satire that would revert to the status quo at each ep's 29-minute mark, to do the whole thing over again next week. A sitcom with more attention on forging laughs and jabs at the establishment than any sort of real character or plot development. But Armando Iannucci can do it all, as the Season 2 finale saw something actually happen. Something big.
The usual explosion of incompetence drives the episode forward as Selena juggles her decision to emancipate herself from POTUS for the upcoming election and run for the presidency four years later. With her political fate up in the air, the staff begins seeking new employ — Dan scours every nook and cranny of Washington for new opportunity (setting his phasers on Danny Chung); Gary entertains the idea of opening a cheese emporium with his girlfriend Dana; Amy, on a whim, pioneers focus on her personal life, sparking some serious conversation with her boyfriend Ed.
But then, reliable ol' Mike spills the beans about the inside scoop, kicking off a rocket-fueled game of ping pong with the veep's professional future standing in for the ball. After back-and-forths that all but kill Selina's spirit, land Dan in irreparably hot water with Chung, have Amy denouncing any threat of a genuine relationship with Ed, and lead Gary to have his zealous girlfriend escorted from the West Wing premises by a Secret Service agent, we land on the ultimate conclusion of the ep and season: POTUS is bowing out of the political game, meaning that Selina will be running for the office of the president in two years.
Her staff assembles, celebrates, and descends back into their frenetic old patterns, eliciting the caliber of mean-spirited gems for which this show has so quickly become famous. But the episode gives us something new: something to look forward to. New developments for Selina and her team, imbuing the laugh-a-minute formula with a fresh since of vibrance and life force. Now, we can look forward to Veep Season 3 not only for more of its acerbic wit, but to actually see what happens to these characters we didn't even realize we were growing to love. Not respect, not at all. But love.
Follow Michael Arbeiter on Twitter @MichaelArbeiter | Follow hollywood.com on Twitter @hollywood_com
More:
'Veep': The Most Blistering One-Liners
Anna Chumsky Talks 'Veep' and 'My Girl'
Tony Hale Talks 'Veep' and 'Arrested Development'
---
From Our Partners:


What Happened to 33 Child Stars (Celebuzz)


40 Most Revealing See-Through Red Carpet Looks (Vh1)