'Veep' Season 2 Premiere: The 10 Most Blistering One-Liners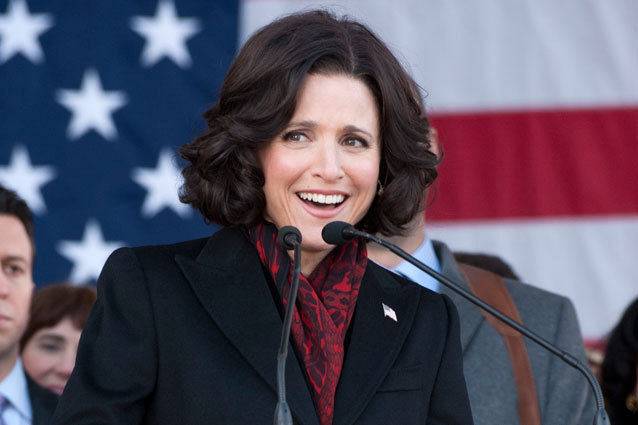 Veep is not for the overly sensitive or deeply offended television viewer…and thank f**king goodness for that. The scathing HBO comedy about the deliriously foul-mouthed, unintentionally incompetent, and downright crazy fictitious Vice President of the United States Selina Meyer (Emmy-winner Julia Louis-Dreyfus) and her not-so-merry band of equally deliriously foul-mouthed, unintentionally incompetent, and downright crazy (played by the immensely talented likes of Anna Chlumsky, Reid Scott, Tony Hale, and Matt Walsh, among others in the ensemble) is back for a second season and things are even more cynical and brutally funny than ever. 
Season 2 of the series premiered on Sunday night and the mind Armando Iannucci — the king of the blistering comeback (also see: In The Loop, The Thick Of It) — has unleashed a new string of fast and furious one-liners. With a show like Veep, the rewind function on your DVR is downright essential as the jokes are relentless and it's easy to miss one when you're still in hysterics over the one that happened right before it. 
The premiere episode, the aptly titled "Midterms" which found Selina and her cabinet dealing with the stress of the midterm elections and their own personal set of crisises (from a hospitalized father to trying to sell a boat on Ebay to trying to find a lipstick, everyone had their own set of unique meltdowns and little to no compassion from anyone around them), there was the lion's share of bad words and unfiltered comebacks. 
If "Midterms" is any indication of Season 2, this year of Veep will be even nastier, and in turn, more hilarious than Season 1. If nothing else, Veep (which will, no doubt, rightfully earn Julia Louis-Dreyfus more awards and accolades) will provide your new favorite lines to quote from television. Jot these down for your next fight, because here are the ten best and most blistering one-liners heard in the Season 2 premiere of Veep. 
1. "I fluffed 'em, now you f**k em." – Selina
2. "My eyes will say Holocaust, my mouth will say Carnivale."  – Selina 
3. "Nope, it's a rape alarm. Not like she's ever gonna need that. I mean she's not ugly, but she's got a lot of security." – Gary (Hale)
4. "You have as much a chance of getting the Vice President on your show as you have of getting your husband to leave that cheerleader." – Sue (Sufe Bradshaw)
5. "I don't know what those words mean. Mike, are you in the middle of some kind of aneurysm?" – Selina
6. "Screw you and the face you rode in on."  – Roger (Dan Bakkedahl)
7. "Jesus, I feel my virginity growing back in here." – Dan (Scott)
8. "You have three kids by two different guys, maybe your last word should have been, 'No'." – Amy (Chlumsky)
9. "Why don't you go and f**k yourself in your own a**hole?" – Selina 
10. "It was accident. Much like when Big Foot got your mom pregnant, resulting in you."  – Mike
Veep airs at 10 PM ET on Sundays on HBO. 
Follow Aly on Twitter @AlySemigran
More:
'Veep' Star Anna Chlumsky Talks Growing Up in Hollywood, HBO, and Humor
'Veep': Does the HBO Comedy Get Your Vote? 
Emmys 2012: The Best and Worst Moments 
---
From Our Partners


Jessica Alba Bikinis in St. Barts (Celebuzz)


Which Game of Thrones Actor Looks Least Like His On-Screen Character? (Vulture)